The Music Department provides a supportive learning environment that promotes the attainment of knowledge and artistic expression within a broad cultural context serving the University and surrounding community with a variety of cultural opportunities and educational activities.
In addition to academic courses of study the Music Department offers a wide variety of performing ensembles in which majors and non-majors participate.
Programs of Study
The Music Department is accredited by the National Association of Schools of Music and offers three degree programs: a Bachelor of Music in Performance with the option of a concentration in jazz studies, piano, organ, voice, guitar or orchestra/band instruments; a Bachelor of Music in Music Education (K-12), with the teaching of music as the major area of concentration; and a Bachelor of Arts in Music.
In the Music Education program, the student may prepare for a teaching career in either vocal or instrumental music or a combination of the two. The Music Education programs are certified by the Illinois State Board of Education.
A student wishing to study as a music major or minor must audition for admission to the Music Department as a music major or music minor candidate.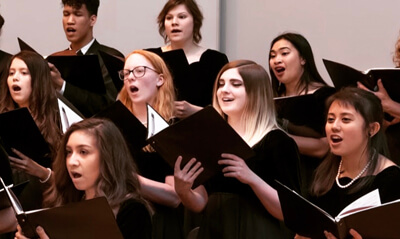 Non-Majors
Students not enrolled in a music degree program may develop individual performance skills through private instruction in voice or instruments. Performing ensembles include University Chorale, Concert and Marching Band, Orchestra, Jazz Band, Guitar Ensemble and many others.
Non-majors may apply credit earned in these courses toward the University "Literature and Fine Arts" requirement.
Request Information
Are you interested in the music program at Saint Xavier University? Please fill out the inquiry form!
Request
Apply Now
Please visit Admission's Apply Now page to find the appropriate application or request more information.
Apply to SXU