MSN in Executive Leadership
Take a High-Level Approach to Improving Care
Learn leadership tools and techniques that support superior patient care.
The online Master of Science in Nursing in Executive Leadership from Saint Xavier University offers you the managerial skills, administrative expertise and critical thinking ability to lead a nursing department or unit.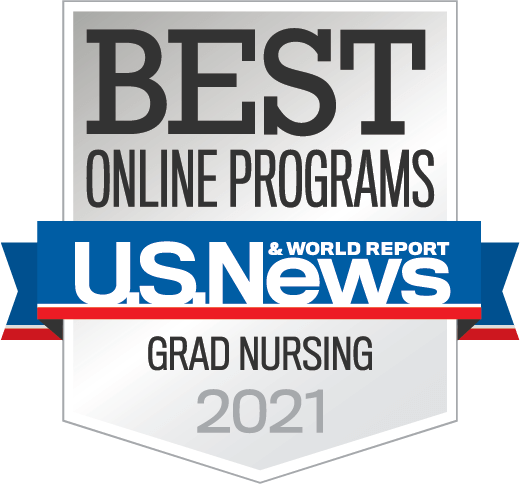 Top 5 Online Graduate Nursing Program
U.S. News & World Report (2014-2021)
Start Date
August 23, 2021
Cost
Tuition Per Credit Hour: $750
Credit Hours to Complete: 35
Approximate Cost: $26,250
Improve Systems and Patient Outcomes
There is a critical need for skilled administrative leaders with graduate nursing degrees.
The online MSN executive track gives you the ability to impact and improve systems and processes to improve patient outcomes.
Coursework prepares you for the Nurse Executive, Board Certification exam (NE-BC) and the Nurse Executive, Advanced Board Certification exam (NEA-BC) upon completion of administrative employment.
The Executive Leadership curriculum covers all major administrative and organizational aspects of nursing practice, including:
Assessing and implementing quality and safety protocols and measurements
Budgeting
Project management
Strategic planning for workforce, technology and equipment needs
Regulatory compliance
Conflict management
The curriculum in this online nursing master's degree program is applicable to executive nursing careers in all health care settings, such as:
Hospitals
Doctors' offices
Rehabilitation centers
Hospices
U.S. News & World Report ranks SXU a Top 5 Online Graduate Nursing Program (2021) for the last eight consecutive years.
In 2018, the National League for Nursing (NLN) designated the School of Nursing and Health Sciences Division as a Center of Excellence in Nursing Education for the fourth consecutive time.
In addition, the master's and baccalaureate degree programs in nursing at Saint Xavier University are accredited by the Commission on Collegiate Nursing Education (CCNE).
These distinctions help give you the confidence in the professional nursing development you will experience as a student at Saint Xavier University, and they will demonstrate the full value of your degree to employers, peers, and patients.
Choose a program that nurtures your executive leadership development: Learn more about the MSN in Executive Leadership from SXU.
A 20-percent clinical partner tuition discount can be taken advantage of by students enrolled in SXU's graduate program who are employed (40 hours per pay period) in a clinical setting.
Please speak with a graduate admissions counselor at 773-298-3053 or graduateadmission@sxu.edu for more information.
Please view our admission requirements for more information on the application process and admission requirements.
Would you like to learn more?
Register to attend the Graduate Programs Virtual Open House or an MSN Online Information Session.
Request Information
Want to know more about graduate programs at Saint Xavier University? Please fill out the form below!
Loading...
Alumni Testimonials
I didn't have to choose between time with my family, work responsibilities, or school. I could really do [the coursework] at times that were convenient for me.
The engagement of the faculty was really impressive. The instructors were able to ask questions that made you dig deeper into concepts. They were also able to give individual support. I felt that they really wanted me to succeed. It was clear to see that each of the faculty not only had a strong understanding of the content, but they were able to relate it to real life experiences.