Admission Response to COVID-19
SXU is Here For You
Campus is open and students and families may visit campus by appointment.
See below for details on operations during this time, as well as resources available to learn more about SXU. Also, be sure to review Saint Xavier University's Campus Plan for details and answers to numerous frequently asked questions regarding the delivery of classes, and much more.
Contact the Office of Admission
On-Campus Appointments, Tours and Virtual Visit Opportunities
On-Campus Appointments and/or Campus Tours
ATTENTION: Effective February 28, 2022, in accordance with public health guidance, Saint Xavier University has moved to a mask-optional campus. Students, staff, faculty, and visitors who wish to continue masking may do so.
To schedule an on-campus appointment with an admission counselor and/or a campus tour, please visit our Campus Visit Calendar.
Visit Guidelines
Visitors to the Office of Admission should park in Parking Lot 11.
For the safety of staff and guests, ample hand sanitizer stations are located near the Office of Admission and throughout campus. Restrooms are located nearby, and frequent hand washing is encouraged.
Virtual Visit Opportunities
Check out our Virtual Visits page for virtual visit sessions, a video campus tour, videos of student life, academics and presentations on the SXU experience.
View
Test optional Admission Policy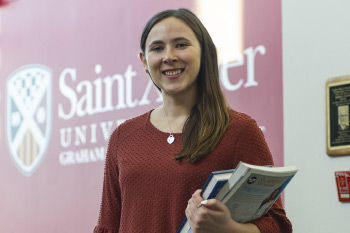 Due to COVID-19's significant disruption on students' ability to take the ACT or SAT exam, SXU announced a test-optional admission policy for freshmen applying for the fall 2021 semester, which has since been extended to applicants for the spring 2022 and fall 2022 semesters. This means that ACT or SAT scores will not be required for fall 2021, spring 2022, or fall 2022 applicants and will not be used in admission decisions or for calculating merit scholarships, with some exceptions.

For additional details, we encourage you to visit our No Test Required Admission Policy page.
Stay Connected
Interact with us on social media!
Why Choose SXU?
Please review our recent accolades as well as
SXU at a Glance
for quick facts and rankings.
We encourage you to visit the following pages to learn more about the features and benefits of an SXU education and the services available to help students be successful college students, graduates and career professionals.
Admission FAQs
Applicants can log in to their applicant status page at any time to view the status of their application, documents needed to complete their application file and more. Follow the username and PIN information you received by email after you applied to SXU. You can also find instructions on visiting your applicant status page by viewing any Application Status emails we sent recently, or contact the Office of Admission for assistance.
Prospective students can schedule an appointment online to meet with an admission counselor or campus tour or by calling the Office of Admission. Please see the Campus Appointments, Tours, and Virtual Visit Opportunities section above for details. You can also schedule a phone appointment with an admission counselor. In addition, see our Virtual Visit page for links to videos and presentations about SXU.
All admitted students are provided mySXU log in information in their mailed admission packet. For instructions on how to log in to mySXU and view your aid offer, we encourage you to watch the Accessing Your Financial Aid Offer presentation on our
Virtual Visit
page. If you need assistance in retrieving your log in information, please contact the Office of Admission.
Your Applicant Status Page contains the status of your application, your admission decision letter including merit scholarship information, your next steps and admission counselor contact information. Your
mySXU portal
will be used throughout your years at Saint Xavier University. Through mySXU, you are able to access your complete financial aid offer, submit a tuition deposit and more.
If you have been admitted to SXU and received your financial aid offer by mail, the letter provides the total cost of attendance as well as any scholarships, grants and loans for which you are eligible. The remaining is your out-of-pocket cost. Payment plans are available as well as additional loan options. We encourage you to contact the
Office of Admission
or the
Office of Financial Aid
to review your financial aid offer and ask questions. You can also view your financial aid award offer on the mySXU portal.
Admitted freshmen will register for classes during first-year orientation, called Via, which is held during the summer. Admitted transfer students should consult our list of
next steps
for details.
If you know the name of your admission counselor, you can find their contact information on either your Applicant Status Page. If you are unsure who your counselor is, feel free to contact the Office of Admission and we can connect you with your counselor.
Yes, we do accept AP/IB/Dual Credits and the Illinois Deal of Biliteracy. For more information, check out our
Earning Advanced Credit
page.