Graduate Programs Virtual Open House Week
Monday, June 21 through Friday, June 25, 2021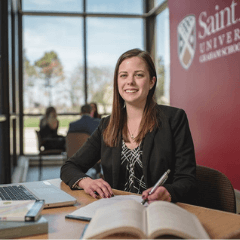 Are You Ready To Advance Your Career?
Saint Xavier University has built a solid pathway for you to advance your career.
Saint Xavier University's Graduate Programs Virtual Open House provides an opportunity for you to learn about the institution's graduate degree programs ready to prepare you for in-demand careers in business, education, nursing, computer science and medical sciences.
Information Sessions
All information sessions are in central standard time (CST).
Monday, June 21, 2021
4 p.m., Financing Your Graduate Degree
5 p.m., Graham School of Management/Master of Business Administration
6 p.m., Juggling Work, Home and an MBA
7 p.m., Predicting Employment Trends in the Chicago Region Post-COVID-19
Tuesday, June 22, 2021
3 p.m., College of Arts and Sciences/Master of Science in Medical Sciences
4 p.m., Juggling Work, Home and a Master of Science in Medical Sciences
5 p.m., Mindful Meditation for the Graduate Student
6 p.m., Financing Your Graduate Degree
Wednesday, June 23, 2021
12:30 p.m., What We Know About Mental Health
5 p.m., College of Arts and Sciences/Master of Applied Computer Science
6 p.m., Juggling Work, Home and a Master of Applied Computer Science
7 p.m., Financing Your Graduate Degree
Thursday, June 24, 2021
8 a.m., School of Nursing and Health Sciences/Master of Science in Nursing
12:30 p.m., Financing Your Graduate Degree
3 p.m., LinkedIn and Networking
4 p.m., School of Nursing and Health Sciences/Master of Science in Nursing
8 p.m., School of Nursing and Health Sciences/Master of Science in Nursing
Friday, June 25, 2021
Noon to 2 p.m., Education Department


Noon to 12:30 p.m., Traditional teacher preparation programs offered at SXU
12:30 to 1 p.m., Alternative licensure programs offered at SXU
1 to 1:30 p.m., Financing your education -- grants and opportunities for teachers
1:30 to 2 p.m., Tips for success in graduate teacher programs

2 p.m., Financing Your Graduate Degree
3:30 p.m., Resumes and Cover Letters
4:30 to 6:30 p.m., Education Department


4:30 to 5 p.m., Traditional teacher preparation programs offered at SXU
5 to 5:30 p.m., Alternative licensure programs offered at SXU
5:30 to 6 p.m., Financing your education -- grants and opportunities for teachers
6 to 6:30 p.m., Tips for success in graduate teacher programs