Graduate Programs Virtual Open House
Friday, November 19, 2021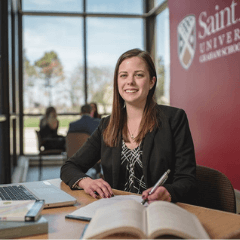 Are You Ready To Advance Your Career?
Saint Xavier University has built a solid pathway for you to advance your career.
Saint Xavier University's Graduate Programs Virtual Open House provides an opportunity for you to learn about the institution's graduate degree programs ready to prepare you for in-demand careers in business, education, nursing, computer science and medical sciences. In addition, learn about admission requirements, deadlines, financial aid options, and have an opportunity to ask questions at the end of each session.
Information Sessions
All information sessions are in central standard time (CST).
Financial Aid - 4:30 to 5:30 p.m.
Graduate Education Programs - 5:30 to 6:30 p.m.
Master of Science in Medical Sciences - 5:30 to 6:30 p.m.
Master of Applied Computer Science - 6:30 to 7:30 p.m.
Graduate Business Programs - 6:30 to 7:30 p.m.
Graduate Nursing Programs - 7:30 to 8:30 p.m.
Registration
Register by using the form below. If you have any questions, feel free to contact the Office of Graduate Admission at
graduateadmission@sxu.edu
or 773-298-3053.
Loading...