Graduate Programs Open House
November 10, 2022, 4:30-7:30 p.m. (In-Person)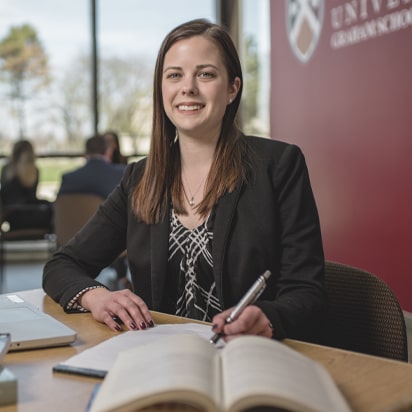 Why attend the Graduate Programs Open House?
Whether you seek to advance within your current career or change careers, Saint Xavier University offers excellent graduate program options for candidates possessing a bachelor's degree, regardless of major, who desire to enhance their skill set, learn strategically and grow professionally.
Our in-person Graduate Programs Open House will feature graduate programs in business, education, nursing, computer science, medical sciences and exercise science. Faculty from the graduate programs and representatives from Graduate Admission will be available to meet with you to discuss your goals and provide you with information about the graduate school application process, admission criteria and financial assistance.
The event will take place on Thursday, November 10, in the Butler Reception Room, located inside the WAC (Warde Academic Center). Guests are welcome to stop in at any time between 4:30 p.m. and 7:30 p.m. Please use the main entrance of the WAC, located on the south side of the building which faces 103rd Street (glass doors near the tall flag pole). Parking is available just off of 103rd Street in Lot 12 near the main entrance of the WAC. Our campus maps are available for additional information.
Please scroll down to register for this event.
Optional In-Person Sessions on November 10
During the Graduate Programs Open House, we will be offering several optional sessions at specific times during the course of the evening. The sessions will include presentations given by faculty. Guests are invited to attend any of the following sessions below. You will be given an opportunity to indicate your interest in attending a session when you register for the event. All information sessions will be in Central Daylight Time (CDT).
Business - 5:15 p.m. or 6:30 p.m. - covering our MBA and graduate business certificate programs
Education - 5:15 p.m. or 6:30 p.m. - covering our teacher preparation programs for individuals desiring teacher licensure and our teacher endorsement/master's programs for licensed teachers
Registration
If you have any questions, feel free to contact the Office of Graduate Admission at graduateadmissionFREESXU or 773-298-3053.

Loading...