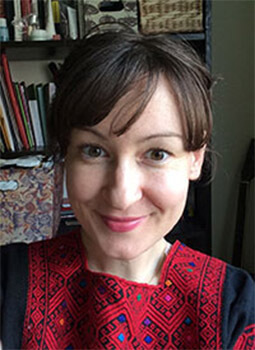 FACULTY AND STAFF
Christine Fojtik
| | |
| --- | --- |
| Title: | Associate Professor/Chair |
| Office: | Warde Academic Center |
| Phone: | 773-298-3241 |
| Email: | fojtik@sxu.edu |
| Department: | History & Political Science |
---
Biography
Professor Fojtik received her Ph.D. in Modern Europe and Women's and Gender History from the University of Wisconsin-Madison in 2013. Before coming to SXU, she taught at Carroll University in Waukesha, WI and at DePaul University. Her work has focused most recently on how postwar deprivation forced Germans to reconsider their place in a Cold War international order. Specifically, she is interested in the way that tensions between urban consumers and rural producers, as well as a loss of agricultural self-sufficiency, led to a reconsideration of Heimat and a reconstitution of national identities.
She is interested in using the tools of the digital humanities to deepen historical understanding and promote public access to historical research. She is coordinator of social science secondary education and the digital humanities minor.
In addition to her responsibilities at SXU, she serves as the new books editor of H-German, an online community for scholars of German history, literature, and culture.
---
Education
Ph.D. in Modern Europe and Women's and Gender History
University of Wisconsin-Madison
Areas of Specialization
Europe
Germany
Eastern Europe and Russia
Women and Gender
Sexuality
Digital Humanities
---
Courses Taught
HIST 101: World History to 1500
HIST 102: World History since 1500
HIST 201: Introduction to the Digital Humanities
HIST 208: Europe since 1789
HIST 211: Women in Modern Europe
HIST 213: History of Modern Germany
HIST 215: History of Modern Russia
HIST 249: History of the Holocaust
HIST 251: Topics in European History (Refugees and Forced Migration in the Modern World)
HIST 348: "Deviant" Sexuality in the Western World
HIST 395: Senior Seminar
HONORS 320: Science and Social Justice
Selected Honors/Awards
Fellow, Holocaust Education Foundation, Northwestern University, 2016
Graduate Student Exchange Program Fellowship, Rheinische Friedrich-Wilhelms-Universität, 2008-2009
University of Wisconsin - Madison, Early Excellence in Teaching Award, 2007
Fulbright Teaching Assistantship, 2003
---
Presentations/Publications/Productions
"Growing the Future: the Debate Over Agricultural Reconstruction in the Western Zones of Occupied Germany, 1945-1950," Agricultural History (forthcoming).
"The Productive Heimat: Territorial Loss and Rurality in German Identity at the Stunde Null," Food, Culture and Identity in Germany's Century of War, eds. Heather Benbow and Heather Perry (Palgrave, 2019).