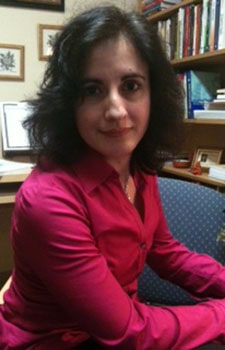 FACULTY AND STAFF
Gina Rossetti
| | |
| --- | --- |
| Title: | Interim Dean |
| Office: | Warde Academic Center |
| Phone: | 773-298-3598 |
| Email: | rossetti@sxu.edu |
| Department: | Arts & Sciences |
---
Biography
Dr. Gina Rossetti has been a faculty member at Saint Xavier University since 2002, where she teaches courses in American literature and First-Year composition.
She holds leadership positions with the Jack London Society as its President and as a member of its Advisory Board; she also serves as the Area Chair for Jack London Studies with the Popular Culture Association. She has also served as a manuscript reviewer for Oxford University Press and Studies in American Naturalism.
Additionally, she has held a number of leadership positions at Saint Xavier University, including Vice-President Elect and Vice-President of the Faculty Senate, Program Director of the Women and Gender Studies Program, Department Chair of Language and Literature, and as the Chair of the University Rank and Tenure Committee.
---
Education
Ph.D. in English
University of Tennessee
Areas of Specialization
In her scholarship, she specializes in American literary naturalism with special emphasis on Jack London's fiction.
---
Courses Taught
FYS 175: The World of Harry Potter
HON 150: Honors Composition
ENGL 120: Rhetoric and Writing
ENGL 322: American Realism and Regionalism
ENGL 395: Senior Seminar I
ENGL 396: Senior Seminar II
Selected Honors/Awards
Recipient,

Arts and Sciences' Teacher/Scholar Award, Saint Xavier University, 2006.
Recipient,

Excellence in Research Award, Saint Xavier University, 2006.
Recipient,

Illinois Campus Compact -- McCormick Tribune Presidential Civic Leader Fellowship Grant, 2005.
Recipient,

Agatha O'Brien Fund Grant, 2005.
Nominee,

School of Arts and Sciences' Teacher/Scholar Award, Saint Xavier University, 2005.
Recipient,

Arts and Sciences' Fund Grant, Saint Xavier University, 2004.
Nominee,

Excellence in Teaching Award, Saint Xavier University, 2003, 2004, 2005, 2012.
Recipient,

Center for Educational Practice Faculty Research Grant, Saint Xavier University, 2002-2003.
---
Publications
"It's a Family Affair: Nativism and Ethnic Panic in Jack London's Valley of the Moon." MLA Approaches to Teaching Jack London, eds. Kenneth Brandt and Jeanne Campbell Reesman. Approaches to Teaching World Literature Series. General Ed. Joseph Gibaldi. August, 2015.
"Lessons Learned: The Twelfth Biennial Jack London Society Symposium," The Call: The Magazine of the Jack London Society. Fall/Winter, 2014, No. 2 Spring/Summer, 2015, Vol. 26, No. 1.
"After the Plague: Race and Survival in Jack London's
The Scarlet Plague
."
Apocalyptic Projections: A Study of Past Predictions, Current Trends, and Future Intimations as Related in Sci Fi and/or Fantasy Film or Literature, ed. Annette Magid. Lady Stephenson Library (Newcastle: Cambridge Scholars Publishing, 2015), 61-79.
"Turning the Corner: Romance as Economic Critique in Norris' Trilogy of Wheat and Du Bois' The Quest of the Silver Fleece," Studies in American Naturalism 7:1 (Summer 2012): 39-49.
"'Old Entanglements': Spectral Spouses in Edith Wharton's 'The Other Two' and 'Pomegranate Seed.'" The Journal of the Short Story in English/Les Cahiers de la Nouvelle 58 (Spring 2012): 189-200.
"Things Fall Apart: Degeneration and Atavism in American Naturalism." Oxford Handbook to American Literary Naturalism. Ed. Keith Newlin (New York and London: Oxford UP, 2011), 172-182.
Review of Jack London, Photographer. Studies in American Naturalism. 5:2 (Winter 2010): 196-199.
"Back to School: Pedagogical Pitfalls and Innovations in Teaching Chopin's The Awakening," American Literary Naturalism Newsletter 3:1-2 (Fall 2009): 12-16.
Imagining the Primitive in Naturalist and Modernist Literature (University of Missouri Press, 2006).
"Out of the Gene Pool: Primitivism and Ethnicity in Frank Norris's McTeague," College Language Association 48:1 (September 2004): 51-70.
"Paul Laurence Dunbar," Encyclopedia of the Harlem Renaissance, eds. Cary Wintz and Paul Finkelman (New York and London: Taylor & Francis, 2004).
"Naturalism 'Unmasked': Ideological Forms and Black Liminality in Dunbar's The Sport of the Gods, Synthesis 5 (Fall 1999): 137-154.
Review of Female Subjects in Black and White. South Atlantic Review 63:2 (Spring 1998): 152-155.
Review of Three Rediscovered Novels by Frances E.W. Harper. African America Review 30:2 (Summer 1996): 302-305.
Review of Written by Herself and Three Rediscovered Novels by Frances E.W. Harper. Tulsa Studies in Women's Literature 14:2 (Fall 1995): 384-387.