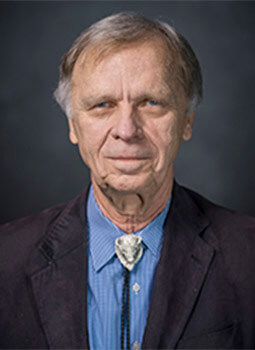 FACULTY AND STAFF
John Gutowski
| | |
| --- | --- |
| Title: | Professor |
| Office: | Warde Academic Center |
| Phone: | 773-298-3271 |
| Email: | gutowski@sxu.edu |
| Department: | Soc. Anth and Criminal Justice |
---
Biography
John Gutowski was born and raised in Hamtramck Michigan, an ethnic enclave and distinct municipality surrounded by the city of Detroit. He graduated from Detroit's De La Salle Collegiate High School in 1961 where he was vice-president of his senior class and co-captain of the varsity football, basketball, and baseball teams. In 1964 he graduated from Wayne State University with a double major in English and French and a minor in psychology. After obtaining his master's degree in English with a concentration in Old English, Gutowski began his career as an educator at Northern Michigan University where he spent two years in the English Department as an instructor of the Humanities within the University's newly established, experimental common learning program. Having developed his interests in folklore while working in Michigan's Upper Peninsula, he left Marquette in 1968. Then he began his graduate studies at Indiana University's Folklore Institute, where he studied under the direction of Richard Dorson and Linda Degh, developing a lifelong interest in folk narrative, folk behavior, the festival, the relationship between folklore and popular culture, and both the ethnic and the national dimensions of American folklore.
Gutowski's first position as a professional folklorist was as assistant professor of English at Wayne State University from 1971 to 1979. During this period he also became director of the Wayne State University Folklore Archive from 1973 to 1975. During the 1973-1977 period he also served as president of the Michigan Folklore Society and chair of the folklore section of The Michigan Academy of Science, Arts, and Letters. In 1979 Gutowski became academic dean at Saint Mary's College Orchard Lake Michigan. He held this position until 1990 when he was selected to be the founding dean of the School of Arts and Sciences at Saint Xavier University in Chicago. In 1994, after fourteen years of continuous administrative involvements, Gutowski returned to the classroom on a full-time basis at Saint Xavier where he currently enjoys the position of professor of Anthropology and English. In 2004 he was elected president of the Faculty Senate at Saint Xavier.
---
Education
M.A. in English
Northern Michigan University
Areas of Specialization
"I like to think that I am helping my colleagues to explore the boundaries of canonicity in literature, art, and culture. My special interests in folklore, myth, and popular culture involve a continuous rethinking of the idea of creativity, the meaning of tradition, and the boundaries of multiculturalism. Ultimately I think that learning how to find value in common experience and seeing vitality in common expression are important keys to understanding both the self and the other."
---
Courses Taught
Critical Thinking and Writing
Research and Writing
Rhetoric and Writing
English Senior Seminar: Myth and Literature
Folklore
Modern Ritual
Introduction to Cultural Anthropology
Sports and Literature; American Cultural History
The Sociology of Sports
Myth and Power
Anthropology of the Millennium
Interdisciplinary Honors Seminar: The Peopling of America
First Year Seminar: 2012; An Anthropological Inquiry
First Year Seminar: Urban Legend
---
Presentations
"Tchaikovsky's 1812 Overture, National Anthems, and Traditional Narratives: The Russian-American Connection." National Meeting of the American Folklore Society, October 22, 2013.
"Stories, Storytellers, and Storytelling: A Folklore Perspective." Plenary Session Address. Saint Xavier University School of Education in Partnership with Motheread Inc. Conference on The Power of Story: Language and Literature in Context. Chicago, October 11, 2008
"Community and Legend," National Meeting of the American Folklore Society, October, 2002.
"Traditions of Nationalism, National Anthems, and the War of 1812." Daley College Honors Program Lecture Series, Chicago, April 6, 1996, April 17, 1997.(Repeated annually 2001-2005).
"What's So Popular about Saint Patrick?" Saint Xavier University, Center for Educational Practice, March 17, 1995.
"Folklore and the Invention of Tradition," Beverley Area Kiwanis Club, Chicago, January 11, 1995.
"The Power Within: Occult Healers in Pennsylvania" (film discussant), National Meeting of the American Folklore Society, October 22, 1994.
"Contemporary Legend in Lovecraft," Twelfth International Conference of the International Society for Contemporary Legend Research, Paris France, July 18, 1994.
"Personal Narrative, Community Metaphor, and the Socialization of the Stranger," National Meeting of the American Folklore Society, October 28, 1993.
"The Beast of "Busco in Contemporary Legend," Eleventh International Conference of the International Society for Contemporary Legend Research, Bloomington, Indiana, May 12, 1993.
"God Bless American and Poland Too: An Interpretation of the Film," Joint Meeting of the American Historical Association and the Polish American Historical Association, Chicago, December 29, 1991.
"Confessions of an American Folklorist," Saint Xavier College Center for Educational Practice Forum, Chicago, April 15, 1991.
"What is Folklore?" Beverly Area Kiwanis Club, Chicago, April 3, 1991.
"Myth, Legend, and Lovecraft," Saint Xavier College Humanities Colloquium, Chicago, October 15, 1990.
"The Folkloric and Ethnological Premises of Lovecraft's Fiction," National Meeting of the Popular Culture Association, Toronto, Ontario, March 10, 1990; and The Eleventh Annual Conference of the International Association for the Fantastic in the Arts, Ft. Lauderdale, Florida, March 23, 1990.
"Malinowski's Contribution to a Theory of Myth in Modern Ethnology and Theology," Meeting of the Polish Institute of Arts and Sciences of America, Hunter College, City University of New York, May 19, 1984.
"Myth and Mythmaking," Oakland Community College Lecture Series, Farmington Hills, Michigan, April 7, 1982.
"Polish American Identity,"International Conference on Poles in North America, University of Toronto, Toronto, Ontario, October 25, 1980.
"The Preservation of Ethnic Identity: Folklore and Oral History," 1980 Michigan Ethnic Conference, University of Michigan, Ethnic Heritage Studies Program. Detroit, June 5, 1980.
"Polish Pre‑History: Ethnogenesis, Myth, and Folklore," Polish American Heritage Workshop, St. Mary's College, Orchard Lake, June 23, 1980.
"Slavic Tradition in the Symbolic Dimension of Kosinski's Painted Bird," Michigan Academy of Science, Arts and Letters, Detroit, March 21, 1980.
Publications
"Simon Bronner. Campus Traditions: Folklore from the Old Time College to the
Modern Mega-University." Jackson: U P of Mississippi, 2012. Journal of American Folklore 127 (2014): 472-474 (Review).
"Monsters and Tall Tales." in Richard Sissan, Christian Smith, and Andrew Cayton eds. American Midwest: An Interpretive Encyclopedia. Bloomington: Indiana University Press, 2007, pp.401-402.
"Polish Communities," in Simon Bronner, ed., Encyclopedia of American Folk Life. M.E. Sharpe, 2006, pp. 966-970.
The Beast of 'Busco: An American Tradition. Midwestern Folklore, vol. 24, nos. 1-2. Terre Haute: Indiana State University, 1998.
"Polish Americans," in Jan Harold Brunvand, ed., American Folklore: An Encyclopedia. New York: Garland Press, 1996, pp. 567-570.
"The American Context of Polish American Folklore" (in Polish), in Hieronym Kubiak et.al, eds., Polonia Amerykanska: Przeszlosc i Wspolczesnosc. Wroclaw (1988), pp.283‑291.
"Turtle Days" (Five Excerpts from "American Folklore and the Modern American Community Festival"), Reprinted in Tristram Potter Coffin and Hennig Cohen, eds. The Folklore of American Holidays (Detroit: Garland Press, 1987).
"Polish American Folklore," The Quarterly Review of Polish Heritage, 34 (1983): 1‑11.
"Polishness," Poles in North America Conference (Toronto: Canadian Polish Research Institute,1983), 12‑15.
"Polish Detroit and the Kolasinski Affair," The Quarterly Review of Polish Heritage 32 (1981): 9 (Review).
"An Inventory of Sources Pertinent to the Folklore of Jesse James," Mid‑America Folklore 8 (1980): 8‑37.
"The Immigrant Experience: The Long, Long Journey." Journal of American Folklore 92 (1979): 257‑259," (Review).
"The Protofestival: Local Guide to American Folk Behavior," Journal of the Folklore Institute 15 (1978): 113‑132.
"Neighborhood Folk Culture," in Otto Feinstein and Frank Seaver, eds.The Detroit Hearings: A Model for City/University Collaboration on Urban Concerns (Detroit, 1977), pp.133‑135.
"The Art of Professional Wrestling: Folk Expression in Mass Culture," Keystone Folklore Quarterly 17 (1972): 41‑50.
"Krohn's Folklore Methodology," Folklore Forum 4 (1971): 152 (Review).
"Traditions of the Devil's Hollows: Relationships between a Place Name and Its Legends," Indiana Folklore 3 (1970): 190‑213; rpt. in Linda Degh, ed. Indiana Folklore: A Reader (Bloomington, IN: Indiana University Press, 1980).
"The Gypsies and Gypsy Hill," Indiana Folklore 3 (1970): 95‑112.
Television Productions
"The Sentinel Committee of the Polish American Congress," It's Your Turn, WTVS‑TV, May, 1977. (A half hour program on the nature of ethnic discrimination and defamation with Paul Wrobel and Jan Szulec.)
"The Three Cultures: Folk Culture," TV College, Urban Humanities Course, WTVS‑TV, October 7, 8, 9, 10, and 11, 1974. (Five half hour programs with Paul Winter.)
"Ethnicity and Culture," TV College, Ethnic Studies Course, WXYZ‑TV, February 26, 27, and 28, 1972. (Three half hour programs with Otto Feinstein and others.)