/
/
/
SXU Advertising and Marketing students develop campaign for Independence Physical Therapy
SXU Advertising and Marketing students develop campaign for Independence Physical Therapy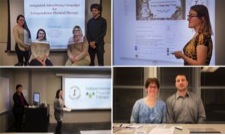 This fall, Saint Xavier University (SXU) advertising and marketing students were given a unique opportunity to take the material they learned in the classroom and apply it to the real world by working with Independence Physical Therapy, a small business located in Crete, Ill.
Adjunct Instructor Jill Plourde, who also works in the marketing field, taught these students and is responsible for coordinating the partnership between the students and their client. Plourde taught her students how to research the target market, compile a SWOT analysis, and create a strong objective and strategy; giving her students the knowledge to execute effective marketing.
For the students' final exam they were tasked with putting together an advertising campaign for their client. The students were separated into several groups, and each group was responsible for creating a marketing campaign and presenting it to the Barbara Gerk, owner of Independence Physical Therapy, and several of her colleagues.
"During presentations, students educated my husband Dan and me on strengths and weaknesses of our current marketing strategies, and provided very useful information on how to make simple but effective changes," said Gerk.
This unique partnership was mutually beneficial. It gave the students an opportunity to work with an actual client and gain a real-life experience that is sure to help them as they begin their professional careers; while Independence Physical Therapy gains research and advice that will help increase their business' advertising and marketing ventures.
"As a small business owner I already know that some stones are left unturned, but this experience left my company with a positive attitude about what's under the marketing stones," said Gerk. "We are very grateful for this opportunity to learn how to improve our company image and presence in today's marketing world!"
For more information on Independence Physical Therapy, please visit their website.
---