/
/
/
SXU's Bindhu Alappat presented research at International Conference on Natural Products in Thailand
SXU's Bindhu Alappat presented research at International Conference on Natural Products in Thailand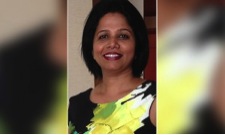 Saint Xavier University's (SXU) Associate Professor of Chemistry Bindhu Alappat, Ph.D., presented her research last month at the Sixth Annual International Conference on Natural Products for Health and Beauty (NATPRO6) in Kohn Kaen, Thailand. Her research entitled, "Uncovering the Wonders of Flavored Green Tea: From Antioxidant to Anticancer Properties" was put on display during the poster presentation portion of the conference, which was attended by chemistry professors, postdoctoral and graduate scholars.
NATPRO is a major annual event and recognized as a landmark in the calendar of researchers and experts in the field of natural products worldwide. The conference provides opportunities for attendees to come together and network with top-in-the-field research, specialists, healthcare professionals and government leaders.
Alappat's primary research is in nanotechnology, with her graduate and postdoctoral work in nanomaterials and molecular electronics. Recently, she has shifted her interest towards natural products chemistry and works with SXU students on various collaborative research projects. After publishing a research paper on green tea in the Journal of Agriculture and Life Science, which she worked on with SXU graduates, Chau Truong and Jaclyn Sarna, she submitted an abstract to present at NATPRO6.
"I wanted to attend this conference to discuss my research to experts and colleagues in the field," said Alappat. "I also wanted to attend presentations to help me take our research in new directions where I can combine nanotechnology and natural products to come up with innovative ideas and modify/improve the already exisiting research programs."
SXU's chemistry department has a vibrant research program for undergraduate students, which allows them to explore areas of the field. The faculty-student collaborative research Alappat conducts with her students will equip them with experiences required to succeed in their professional life, but ultimately motivating them for a career in chemistry immediately after graduation.
"Presenting the work to the scientific community is important to get proper feedback and develop an appreciation for research work done in an undergraduate institution such as SXU," said Alappat. "At the same time, it helps the faculty member stay current in the field of research and to develop professionally within the discipline."
The following is an abstract of Alappat's research that she presented on while at the conference:
"Green tea (Camellia Sinensis) -- a widely used natural product is well known for its antioxidant and anticancer activities. It contains many polyphenolic substances or tea tannins that include flavanols (catechins), flavandiols and phenolic acids. Green tea has been associated with just about everything healthy -- lowering the risk of chronic diseases such as heart disease, cancer and diabetes to immunity boosting. Speculations about the benefits of green tea range back to ancient times, but their bioactivities and mechanisms are yet to be established. The main health promoting substances in tea are polyphenols called catechin. In Asian countries green tea is consumed as plain brewed tea, but in western countries the popularity of tea is for the flavored green tea available in the market. All existing research work documents health benefits of plain green tea, but studies on flavored teas are not as wide spread. In our research project, various flavored green teas -- mango, mint, jasmine, pomegranate and blueberry -- were analyzed and compared to plain green tea for anticancer and antioxidant capabilities. The purpose of examining a number of different flavors is to determine whether the addition of any of these flavors has significantly altered the anticancer, or antioxidant property of plain tea. It was determined that jasmine and blueberry had the strongest anticancer properties but jasmine was the most antioxidant."
International conferences on natural products, such as NATPRO6, is a great opportunity for researchers to present the work, gain knowledge and initiate collaborations with other researchers in this area.
"Communication, outreach and sharing are the keys for the success of science and I believe participating and presenting in an international conference like this will earn a rightful place for SXU in the scientific landscape," said Alappat.
---