/
/
/
SXU alumna Jenell Pointer-Steele appointed to International Nurses Association
SXU alumna Jenell Pointer-Steele appointed to International Nurses Association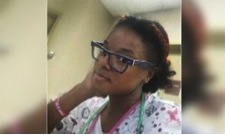 Saint Xavier University's (SXU) School of Nursing (SON) alumna Jenell Pointer-Steele, RN, BSN, '12, was recently welcomed into the International Nurses Association, a prestigious growing network of nurses from around the globe. She was recognized for her upcoming publication in the Worldwide Leaders in Healthcare.
Pointer-Steele is a registered nurse working for Johns Hopkins Medicine in Baltimore, Md. and has over four years of experience in the field, specializing in oncology and cardiac nursing. She attributes her success to her faith as a Christian, and her motivation to make a positive difference in her patient's lives. When she is not assisting patients, Pointer-Steele enjoys hiking, golf and vacationing in Bermuda.
Congratulations, Jenell, keep making SXU proud! For more information on the International Nurses Association, please visit their website.
---