Alumna leaves lasting impression on SXU, her home away from home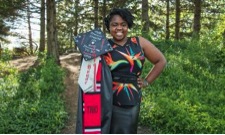 Alumna Ivie Ehigie recently graduated with degrees in Spanish and Psychology. While attending SXU she went on four SXU service trips: Belize, Cincinnati, Baltimore, and Tennessee. While her peers were partying, binge watching shows, or sleeping, she chose to spend her breaks helping others. As her friends, professors, and coworkers can attest to, a generous spirit is just one of many characteristics that make Ivie special.
Ivie is the daughter of Chicago native Colett Ehigie and Nigerian immigrant Benjamin Ehigie of the Edo tribe of the Benin Empire. "Ivie" is an Edo word meaning "precious," and it is also the name of Benin ceremonial beads and the coral beads worn by royalty, chiefs, and government officials. "My favorite color is orange," Ivie says, "so when I found out I was named after the orange beads it all made sense!"
Colett and Benjamin Ehigie have sacrificed to send Ivie and her brother, Benny, to Catholic schools and to make many opportunities and experiences available to them, and Ivie has made the most of those opportunities. No matter the trip, activity, or club, her family has been there with her planning, fundraising, and helping however they can. "I have the most amazing support system possible," Ivie affirms.
Ivie has traveled extensively in addition to service trips, including trips to Nigeria to see her relatives. She loves to travel, experience different cultures, and meet new people. However, her interest in Spanish as a major was rooted right here in Chicago; Ivie volunteered at a hospital while in high school, and "saw the chaos that language barriers caused for hospital staff and patients. After that experience," Ivie explains, "I decided that I wanted to learn Spanish so I could better communicate with the rising Spanish-speaking population."
Ivie plans to attend medical school and is currently studying for the MCAT. She suspects that caring for her younger brother, who had severe asthma growing up, probably played a huge role in her wanting to work in healthcare. She'd like to go into pediatric medicine, perhaps one day specializing in developmental disabilities.
Although she attended Marist, Ivie hadn't even considered SXU until she was a senior in high school, when her mom suggested she check it out because of its nearby location. But once she visited the campus, she was convinced it was the right place for her. At an admitted-students event, she learned of the many opportunities to attend retreats, volunteer, and do service work. The grants and scholarships she was awarded sealed the deal, and SXU became her home away from home.
Not surprisingly, Ivie had been active in campus ministry, in Chi Alpha and as a student worker, retreat leader, and peer minister. As a sophomore, she did service in Cincinnati as part of the Student Success Program, and as a Schmitt Scholar she was instrumental in bringing political cartoonist Keith Knight to campus this spring. "Ivie has got it all," boasts Andrea Stapleton, director for Mission Formation and Integration, in SXU's Department of University Ministry. "She is a person of integrity. Ivie manages many responsibilities, always with grace and excellence. She is an inspiration to me."
"She genuinely enjoys doing service, and her service benefits so many others, too," notes her supervisor Maribel Acevedo, assistant director of Corporate, Government and Foundation Relations. "There are so many reasons why she's wonderful to have around the office: She's kind, honest, extremely smart, and hardworking. She's compassionate, focused, and detail-oriented. And she has a very positive outlook."
"I wish we could have her for another year," adds Denise DuVernay, assistant director of Corporate, Government and Foundation Relations and director of the Schmitt Scholars Program at SXU. "She has a way of cleaning up messes, literal and figurative, that I've never seen before. I suppose we'll survive without her, but it might not be pretty."
Ivie cites campus ministry and Chi Alpha as playing a huge role in her positive college experience: "Without every retreat, bible study, worship night, game night, volunteer experience, and prayer group, I would not be the student or woman that I am today."
But to her classmates, friends, professors, and supervisors, SXU would not be the place it is today without her.
---