/
/
/
SXU's Annual Golf Classic raises over $111,000 in support of student scholarships
SXU's Annual Golf Classic raises over $111,000 in support of student scholarships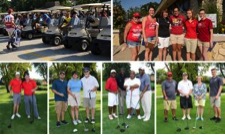 Saint Xavier University (SXU) recently raised more than $111,000 at its 20th Annual Golf Classic on Tuesday, August 2 at Silver Lake Country Club in Orland Park. More than 140 golfers enjoyed a day on the green and a record-setting number of University faculty and staff joined the golfers to attend the reception and dinner. Proceeds from this event support SXU student scholarships.
In addition to playing an 18-hole round of golf, participants were treated to breakfast and lunch. Also included was a hearty buffet dinner that was emceed by Chicago's own Dwayne Kennedy, a stand-up comedian, actor and writer who has appeared on Jimmy Kimmel Live, Comedy Central Presents, The Late Show with David Letterman, Late Night with Conon O'Brien and Seinfeld.
"We wish to extend our most sincere and heartfelt thanks to all the generous sponsors, donors, and golfers who helped provide scholarships to Saint Xavier University's most deserving students through this wonderful event," said John Bass, associate vice president of University Advancement.
SXU students sold tickets throughout the day for exclusive raffle prizes including electronics, overnight trip packages, and golf gear. The presenting sponsor for this event was Henry Bros. Co.
Plans are already underway to host the 21st Annual Golf Classic on Tuesday, August 1, which is sure to be a success -- you won't want to miss it! For more information, call 773-298-3748 or visit the Annual Golf Classic's web page.
---