/
/
News Alert: Archbishop Blase Cupich's visit to SXU featured in Daily Southtown and Patch
News Alert: Archbishop Blase Cupich's visit to SXU featured in Daily Southtown and Patch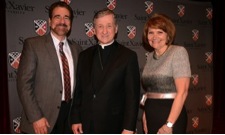 Saint Xavier University (SXU) hosted their latest installment of the Catholic Colloquium lecture series for the 2015-2016 academic year on Thursday, March 31 at 7:30 p.m. in Warde Academic Center's McGuire Hall on SXU's Chicago campus, 3700 West 103rd Street. This lecture featured Archbishop Blase Cupich, where he discussed the relationship between Catholic higher education and the Church, and their shared mission. The audience was invited to consider how the goals of Catholic higher education harmonize with the mission of the Church, and reflect upon the identity and objectives of Catholic higher education in the twenty-first century.
This event was featured in the Wednesday, March 23 issue of the Daily Southtown, as well as in the Monday, April 4 issue of the Daily Southtown. Additionally, reporter Lorraine Swanson highlighted last week's event in the Friday, April 1 issue of Patch and was printed in the Wednesday, March 30 issue of the Associated Press in print only.
For more about the SXU's Catholic Colloquium lecture series, visit the website.
---