/
/
/
Archbishop Blase J. Cupich Comes to Saint Xavier University's Chicago Campus
Archbishop Blase J. Cupich Comes to Saint Xavier University's Chicago Campus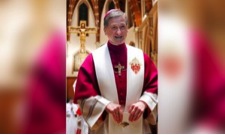 How does a Catholic university express its Catholic identity and partner in the Church's mission? Join us as we explore those questions and much more when Saint Xavier University (SXU) welcomes Archbishop of Chicago Blase J. Cupich to their Chicago campus, 3700 West 103rd Street, at 7:30 p.m. on Thursday, March 31 in SXU's McGuire Hall.
Archbishop Cupich's presentation is titled: "Catholic Higher Education as a Partner in the Church's Mission." This presentation is a part of SXU's 2015-16 Catholic Colloquium Lecture series, which is hosted by SXU's Office for Mission Integration and Mercy Heritage. The lecture is free and open to the public.
Archbishop Cupich will discuss the relationship between Catholic higher education, the Church, and their shared mission. The audience will be invited to consider how the goals of Catholic higher education harmonize with the mission of the Church. We will also reflect upon the identity and objectives of Catholic higher education in the twenty-first century.
For centuries, Catholic education has enjoyed the challenges of shaping young minds and helping to develop students. Catholic higher education has thus associated knowledge with wisdom, and the search for truth with the pursuit of the good. Saint Xavier University's mission is to educate men and women to think critically and serve compassionately in support of the common good and dignity of life.
For more information about this lecture, please contact Dr. Andrea Stapleton, director of Mission Integration and Mercy Heritage, at 773-298-3809 or stapletonFREESXU.
---