SXU Art Gallery presents Michael Hedges "Recent Paintings"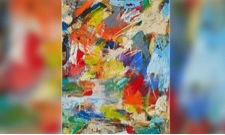 Saint Xavier University's (SXU) Art Gallery will feature the paintings of Michael Hedges and will serve as the next exhibit installment of the fall semester. This exhibition entitled, "Recent Paintings" will run from Wednesday, September 28 to Monday, October 24 in the SXU Gallery on the Chicago campus, 3700 West 103rd Street. A presentation by the artist and reception will be held in the SXU Gallery on Wednesday, October 5 at 3:30 p.m. Public welcome!
Hedges was born and raised in Oak Park, Ill. While in high school he spent two years studying at the Art Institute of Chicago before going on to receive his Bachelor of Arts degree in Studio Art from Loras College in Dubuque, Iowa in 1998. Since college, Hedges has been exhibiting and selling his artwork throughout the Chicagoland area. In addition, to gallery showings, pieces of his work hang permanently in corporations through the Chicago metro-area and Iowa and even have been in private collections.
The following is a statement from the artist which reflects his artwork for this exhibit:
"My paintings are a synthesis of color line, form and texture. They begin as a problem of two or more color relationships to be explored through form. The form is loosely defined by a drawing that acts as a skeleton and ecto-skeleton both beneath and above the finished work. The application of the media to the painting surface is of utmost importance to me. The paint is applied with great bursts of energy, creating a surface, if I am successful, that is supercharged with texture and color. I work multiple, usually around 10, paintings at the same time, all centered on the original problem. This multiple approach allows me to go in different directions, very quickly building the energy that is critical to a successful painting. I strive to create intense, even and stunning color relationships that are balanced by form and texture into a controlled elegance. The challenge here is to create a vibration in the work that energizes it without separating."
SXU's Art Gallery hours are 11 a.m. to 5 p.m. Monday, Wednesday and Friday; noon to 5 p.m. Tuesday and Thursday; and 11 a.m. to 2 p.m. on Saturday.
For more information, please visit SXU's website. To learn more about Hedges or his work, please visit his website.
---