SXU Art Gallery presents Carlos Barberena's "Promised Land"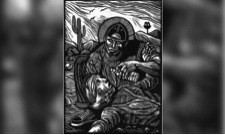 Carlos Barberena, a self-taught Nicaraguan print-maker based in Chicago, will be showcased in the Saint Xavier University (SXU) Gallery with an exhibit entitled "Promised Land."
This is a provocative collection of linocuts and woodcuts that confront social and ecological injustices triggered by rampant voracity and fraudulent schemes of governments and corporations.
Barberena draws inspiration from the art historical masters, and employs a re-conceptualization of their familiar imagery. He borrows their compositional strategies and sometimes their titles, but inserts contemporary imagery with sarcasm and satire to communicate the lethal sins committed by these institutions and entities.
The exhibit runs November 9 through December 5. Please join us on Wednesday, November 9 at 3:30 p.m. to hear a presentation by Mr. Barberena and how he "challenge(s) the status quo in this "fast food society" by making satirical relief prints that emphasize both concept and craft. A reception will immediately follow. All are invited!
SXU Gallery hours are: Monday, Wednesday, Thursday, Friday 10 a.m. to 5 p.m., Tuesday 11 a.m. to 5 p.m., Saturday 11 a.m. to 2 p.m.
---