SXU Baseball was featured in Beverly Review for winning first CCAC tournament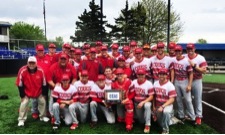 Saint Xavier University's (SXU) Baseball team was recently featured in the Tuesday, May 17 issue of the Beverly Review for their win at the eight-team Chicagoland Collegiate Athletic Conference (CCAC). In winning the tournament crown for the first time in program history, the team received a bid to participate in the 2016 National Association of Intercollegiate Athletics (NAIA) Opening Round Tournament, the first appearance since 2009. The Cougars were defeated in the second day of the tournament to No. 12 ranked and No. 2 seeded York College to end with a 30 to 26 overall record.
Congratulations, Cougars, on a great season! To read more about the Cougar's season finish, please visit the SXU Athletics' website.
---