/
/
/
Blue Island Community Healthcare Foundation Awards Scholarships to SXU Nursing Students
Blue Island Community Healthcare Foundation Awards Scholarships to SXU Nursing Students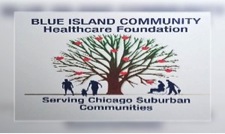 Three Saint Xavier University (SXU) students from the School of Nursing (SON) have been awarded scholarships of $2,000 each from the Blue Island Community Healthcare Foundation for the 2016 to 2017 school year. The students are Brian Conrad, Michelle-Maria Garcia, and Jamella Sims.
Conrad, who received $2,500 from the Foundation last year, is a senior nursing major from Mount Greenwood. He is working as a collegiate nurse at Mercy Hospital, and after completing his degree, he hopes to continue with Mercy as an RN, perhaps in critical or intensive care. His long-term goal includes fostering health literacy within the community, in particular, approaches to tackling obesity through positive nutritional choices. He also volunteers with The Port Ministries, located in the Back of Yards neighborhood.
Michelle-Maria Garcia is a junior II nursing student from Blue Island. She is a member of SXU's Student Nurses Association. She also volunteers at The Port Ministries, and in her free time she plays intramural soccer. She works at Associated Cardiovascular Physicians as a medical assistant. Along with taking vital signs and histories, she often translates for patients who only speak Spanish. After working as a registered nurse in a hospital setting for a few years, Michelle-Maria plans to return to school to become a nurse practitioner.
Jamella Sims is a junior nursing student from Riverdale. Jamella is in SXU's accelerated nursing program, which, as a very demanding program, is dominating much of her time. After she completes her BSN in August of 2017, Jamella hopes to work in a hospital setting, where she'd like to work in a wide range of departments to gain as much hands-on experience as possible.
Founded in the 1970s as a supporting organization for St. Francis Hospital, Blue Island Community Healthcare Foundation continues the legacy started by St. Francis Hospital, which operated as a nonprofit in Blue Island, Ill. for over a century. The organization now funds various charitable groups that serve the area in providing such services as health screenings, programs for disabled children and adults, assistance for those with mental illness and addiction, and nursing education.
---