/
/
/
Radio Alert: SXU's Brandon Swanson and Graziano Marcheschi interviewed on Relevant Radio
Radio Alert: SXU's Brandon Swanson and Graziano Marcheschi interviewed on Relevant Radio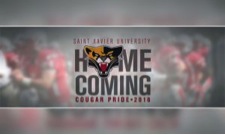 Saint Xavier University's (SXU) Alumni and Parent Relations Assistant Director Brandon Swanson recently conducted a radio interview on Saturday, October 1 on Relevant Radio as part of the "On the Front Porch" show with host Patrick McCormack. During the interview, he gave a preview to the events happening at SXU during its Homecoming Week celebration.
Later during the show, SXU's Vice President of University Mission and Ministry Graziano Marcheschi discussed the history of saying the phrase "God Bless You" to someone after they sneeze. Additionally, he discussed a recent student retreat that took place and the importance of students who go on faith retreats throughout the year.
Don't miss out on the remaining Homecoming activities taking place tonight, with SXU Comedy Night, and tomorrow with the Cougar 5K Run/Walk and Homecoming Football Game. For more details, visit SXU's website.
---