SXU hosts campus Veteran Center grand re-opening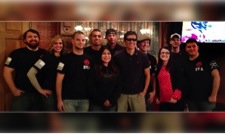 Saint Xavier University's (SXU) Student Veteran Alliance was awarded $10,000 from the Home Depot Foundation's VetCenter grant and Student Veterans of America (SVA) in August 2015 to fund renovations for SXU's Student Veteran Resource Center (SVRC). The funds helped to modernize the space, while also making it more efficient for student veteran use. Construction has completed and SXU's student veterans are excited to show off their newly renovated space on Tuesday, March 22 from 3 to 5 p.m. in Warde Academic Center Room L209.
Since 2008, SVA has helped those returning from military service obtain the resources, support and advocacy needed to help achieve success in higher education and after graduation. For the second year, SVA in partnership with the Home Depot Foundation have helped fund veteran resource centers on college campuses across the country.
The grant was used to update the space – new paint, carpet, window treatments, light fixtures and furniture. These renovations help to encourage additional veterans to take advantage of the camaraderie, services and overall welcoming atmosphere offered by the SVRC.
"This renovation is only possible because of SXU's extremely motivated veterans – the entire grant was written by student veterans and all purchases made with the funds we received were chosen by them," said Sheri Gross, compliance advisor for veterans and athletes at SXU. "They designed our new and improved space, and in turn it has made it easier to be productive – there is more space to spread out and study, more space around our computer stations, and more space for those looking to relax between classes."
On average, 23 student veterans utilize the services at SXU's SVRC on a daily basis. With the renovations, the room can now accommodate for 17 students, whereas before there was only room for nine, comfortably.
SXU's Student Veteran Alliance chapter advocates for student veterans and their families and promotes camaraderie through social support. The alliance holds meetings twice a semester to discuss potential volunteer and event opportunities.
"This renovation has made SXU's SVRC more inviting, which will help in attracting new student veterans to come to our campus," said Gross.
If you'd like to attend SXU's SVRC grand re-opening or for more information, please contact Sheri Gross at grossFREESXU.
---