Saint Xavier University: A Carrillo Family Tradition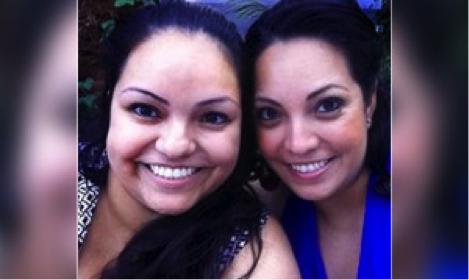 For sisters and SXU employees Laura and Elena Carrillo, the story begins in a church youth group in Chicago where their parents met forty years ago. At that time, Maria Elena and Jaime were young adults who had recently moved to Chicago. Coincidentally, they were from the same state of Jalisco, Mexico. The couple married and had four children, whom they raised to respect their Mexican traditions and culture and, most importantly, to appreciate what Chicago has to offer them, especially education. The Carrillos sent their children to private schools. "My parents had it in their plans for all of us to further our educations after high school," Elena says. "We grew up knowing that we were going to earn a college degree or attend a trade school."
Jaime and Maria Elena were right: all of their children completed post-secondary educational programs. In fact, of the couple's four children, three of them attended Saint Xavier University. Laura earned her degree in elementary education from SXU in 2004. Elena earned her MBA from SXU in 2015 after doing her undergrad in technology management at the University of St. Francis and their brother Edward graduated from SXU in 2010 with a bachelor's in history. The second to the youngest, their brother Jimmy, completed Lincoln Tech's Electronic Systems Technician program in 2005. "Our parents always made it a point of telling us that they were working hard so that we wouldn't have to," Elena says. The extended family also shares a commitment to education; not only did their parents save for their college funds, but their aunts and uncles also gave them bonds as birthday presents to help them save for college.
Laura and Elena have found a sense of community here at Saint Xavier University, reminiscent of how they grew up. After graduating from SXU in 2004, Laura began working in the Admission Office where she was promoted to senior admission counselor after two years. Later, she moved to Financial Aid after helping out as an English/Spanish translator. In 2008, Elena was working for the City Colleges when Laura sent her a job posting for a dual position as an academic advisor in the offices of Records and Advising and for the Student Success Program. Elena landed the job, and was so impressed with the SSP program that she had her brother apply to the program as well as their cousin, Rocio, who earned her degree in nursing in 2013. Saint Xavier has become a new family tradition! Now, Elena is the assistant director of records and registration service, a promotion she received in April 2015.
The sisters feel SXU is special, not just because of the potential for promotion. Elena and Laura cite the mentoring and encouragement from supervisors, professors, and coworkers. Their supervisors always encourage them to increase their skills and base of knowledge, even if it means losing them to other departments. Laura loves the fact that she still runs into some of her favorite professors from years ago, like Dr. Peter Hilton and Dr. Suzanne Lee. Laura says, "I had such a great experience at SXU as a student, and it feels good to talk to parents and assure them that they have a point of contact." Laura, Elena, and their father have coached volleyball to elementary students since 1998, where they stress the importance of education. Most of their athletes have gone on to college, some of them have even attended SXU.
Elena enjoys watching her past advisees grow and advance through SXU. Former students email her to say hello and give updates on their lives. However, her biggest joy is attending graduation stating, "I find graduation so rewarding knowing that I helped students make individual plans to reach their goals of becoming graduates of SXU."
---