SXU's Chartwells hosted first-ever Chartwells Inclusion Week on campus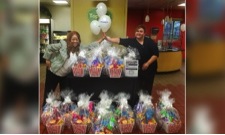 Throughout the week of Monday, April 25 to Friday, April 29 Saint Xavier University's (SXU) Chartwells hosted its first-ever Inclusion Week, which focused on celebrating its teams by implementing a scholarship campaign on campus. The theme for the week was entitled, "Include You," recognizing and appreciating diversity among its associates, customers, clients and communities.
During the week, Chartwells implemented its scholarship campaign through its water bottle sales. For every water bottle sold during the week in SXU's Diner, Chartwells donated 25 percent of those sales to SXU's President Scholarship, which came out to a grand total of $728!
"In celebration of Chartwells Inclusion Week, it is important for Saint Xavier University to help students, faculty and staff cherish and preserve the ethnic and cultural diversity that nourishes and strengthens this community and the University," said Stephanie Moye, senior director of Dining. "Inclusion is the art of thinking independently together for our students' success and diversity is the one true thing we all have in common – celebrate it every day."
The week was comprised of many other events that highlighted its theme including the following:
Client Day (Monday, April 25) – Chartwells shared with clients the value its company places on diversity and inclusion while taking part in various activities throughout the week.
Student Day (Tuesday, April 26) – Student customers celebrated the value of diversity and inclusion with the SXU Mascot, as well as free cake and a presentation in the SXU Diner.
Community Day (Wednesday, April 27) – Chartwells created fun baskets filled with candy and stuffed animals to bring smiles to the community members at Mercy Home for Boys and Girls.
Associate Day (Thursday, April 28) – This day emphasized the programs designed to promote associate growth and development. Chartwells shared a few of the vast resources available within its organization to help its associates grow and use the day to encourage them to look beyond their current position for advancement.
Forward Friday (Friday, April 29) – Chartwells provided the opportunity to reflect on what the week offered and discuss how people can pass along their unique experiences for furthering equality, diversity and inclusion.
Thank you to all who participated in Chartwells Inclusion Week!
---