/
/
/
SXU's Cheerleading Squad and Paw Prints Dance Team Host Fall Tryouts on August 28
SXU's Cheerleading Squad and Paw Prints Dance Team Host Fall Tryouts on August 28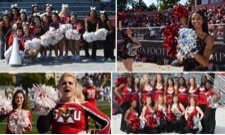 Saint Xavier University's (SXU) Cheerleading and Paw Prints Dance squads will host tryouts for their respective teams on Sunday, August 28 at the Shannon Center located on SXU's Chicago campus, 3700 West 103rd Street. The Cheerleading squad tryout will take place from 10 a.m. to 12:30 p.m. and the Paw Print Dance squad tryout will take place from 10:30 a.m. to noon in the Dance Studio.
SXU's Cheerleading squad tryout details include:
10 a.m. cheerleaders will learn and review a cheer, dance, jumps, stunts and tumbling and tryout at 11:30 a.m.
Cheerleaders will be scored on various skills within the cheer, dance, jumps, tumbling and stunts, such as motions, technique, coordination, energy and enthusiasm, etc.
Tryout participants are asked to wear shorts and a white t-shirt or red t-shirt; cheer shoes are preferred; no baggy clothes or jewelry allowed; and females are to have hair up in a bow.
Tryout participants will be asked to complete an application upon arrival.
If you're unable to make the tryout, video-tryouts will be accepted; videos should include a cheer, dance, at least

two

jumps and stunting skills.
Contact new head coach Julie DeCarlo at jdecarloFREESXU with questions.
SXU's Paw Print Dance squad tryout details include:
The Paw Prints Dance squad consists of game and competition team.
The team performs at all football and men's/women's basketball games.
The competition team will compete at the NDA Collegiate National Competition April 5 to 9 in Daytona Beach, Fla.
Contact coach Samantha Laster at samsxudance@gmail.com or 708-252-4219 with questions.
Good luck to all participants and have fun!
---