Chicago Network's Future Leaders Program: An SXU Student Perspective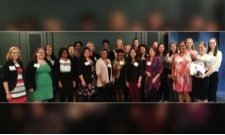 Twelve Saint Xavier University (SXU) students participated in the Chicago Network's Future Leaders Program on Wednesday, May 11. The Chicago Network (TCN) is a group of senior women business leaders that has partnered with SXU, DePaul University and University of Illinois-Chicago to expose young women to a variety of careers. SXU students had the opportunity to visit Access Community Health Network (ACCESS) and the Chicago Tribune.
The students who participated in the program include the following: Esraa Aburas; Yesenia Briones-Villalpando; Alicia Dutkiewicz; Julie Gardner; Shanice Howard; Morgan Ignacek; Bria Moncure; Heidi Oberlander; Samantha Pawlak; Bianca Vega; Alicia Velazquez; and Miryam Villarreal.
The Future Leaders Program offers students a chance to visit select companies, receive an overview of the organization and industry, take a tour of the workplace, and discuss the skills, abilities and education necessary for their career path. The goal of the program is to inspire women to become the next generation of leaders.
SXU sat down with Alicia Dutkiewicz, junior, to get the student perspective on her experience with the Future Leaders Program. She expressed how this was a unique experience she'll take with her as she finishes her academic career and post-graduation life.
"I was immediately intrigued once I visited TCN's website and learned more about the Future Leaders Program," said Dutkiewicz. "You always hear about the discrimination that is common against women in the workplace and I think TCN's goal of facilitating supportive relationships between powerful professional women in the Chicago area is a way to help combat this issue. I knew that I needed to meet some of these women, so I applied for the program."
Leading up to the start of the program, Dutkiewicz was most excited to hear from others and learn about their life experiences, focusing on how she could learn and expand her own aspirations. During orientation, the students had the opportunity to meet with different TCN members both through open discussions and one-on-one; additionally, the students were able to get contact information from the TCN members and have their questions answered.
During their company visit with ACCESS, students met with Chief Executive Officer Donna Thompson who shared her story behind climbing the corporate ladder. Additionally, the students met with Kathleen Gregory, vice president of Strategy and Business Development; Cristina Sotelino, vice president of Communications and Community Engagement; and other managers and directors. When the students visited the Chicago Tribune they had a unique Q&A session with John McCormick, leader of the editorial board, as well as other columnists and editors. In addition, to sitting in on an editorial board meeting right alongside reporters and editors, the students had the opportunity to take a tour of the RedEye and Hoy studios with Aura Campa, editor for Hoy.
When reflecting on her experience, Dutkiewicz stated that her experience in the Future Leaders Program exceeded her expectations because she never expected to have the opportunity to meet and do so much in such a short amount of time. She believes that anything outside of the classroom is supplemental to her education, and believes professional development and networking are key aspects to her success as she moves forward in her career.
"Meeting with women who have achieved so much is really inspiring and I hope to someday be able to join an organization like the Chicago Network to share similar experiences of my own to motivate and support others."
---