/
/
/
Class of 1965 Successfully Raises Funds for Saint Xavier University's New Science Center
Class of 1965 Successfully Raises Funds for Saint Xavier University's New Science Center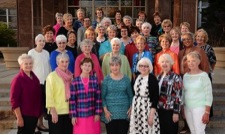 How do you raise close to $70,000 in six months for a University? Enlist committed alumnae like Mary Clare Loftus and Mary Doherty to chair and lead the fundraising effort utilizing numerous techniques (appeal letters, personal notes, email messages, and cheerful follow-up phone calls) as well as a shared passion for the University's mission and you'll be well on your way. A big congratulations goes to Loftus and Doherty as well as the Class of 1965 50th Reunion planning committee for successfully raising funds to establish a science lab for Saint Xavier University's (SXU) new Science Center. Loftus and Doherty both graduated from SXU with Bachelor of Science degrees in nursing. Doherty enjoyed a lifetime career in nursing holding a variety of positions in patient care, education and administration. Loftus enjoyed some nursing and teaching positions before settling into her main career as a housewife and mother. Both alumnae thoroughly enjoyed their time as students at SXU (formerly known as Saint Xavier College) and were delighted to lead this effort.
They quickly began the process by forming a planning committee that consisted of the following 65' alumnae: Winnie Moore Bowman, Nancy Gleason Daley, Mary Moorman Higgins, Denise McAllister McGuire, Carol Milnes Muench, Marge Deters O'Donnell, Joanne Reed Pesavento and Zita Wheeler. The first order of business was updating the demographic information and going through a confidential list of approximately 160 graduates. The planning committee called, emailed and sent personal notes to their classmates in order to finalize an updated alumni mailing list.
Loftus and Doherty knew of the tradition of offering donations as "reunion gifts" to the University on the 50th reunion year. However, no class had made a substantial gift until the class of 1964 exceeded their goal of $64,000 and actually raised $81,000. This fact inspired the class of 1965 to duplicate their efforts, so they quickly set a goal of raising $65,000. After receiving 100 percent approval of the goal from the planning committee, an appeal letter outlining the proposed gift and a pledge form were prepared prior to the reunion weekend.
The committee worked hard planning numerous events for their classmates to enjoy during the 50th Reunion weekend, which was held the first week in May 2015. Forty-nine classmates got reacquainted with each other by attending one or more of the reunion events that included the following: a detailed Chicago campus tour, a Meet the President and Deans event along with a Cocktail Reception, a Class Photo staged at the main entrance of Warde Academic Center, and a Reunion dinner on Saturday night. The final event on Sunday, May 3 consisted of a liturgy in McDonough Chapel followed by a Champagne Brunch in the Butler Reception Room where Carol Milnes Muench gave a very compelling pitch to her classmates regarding the fundraising goal approved by the committee. All in attendance received their first appeal letter and pledge form at that event.
Those in attendance also received a class of 1965 memory book filled with all of the fun activities they enjoyed during the 50th reunion weekend, which was prepared by SXU's Assistant Director of Administration and Parent Outreach Jeanmarie G. Gainer. The memory book was mailed to participants along with a second pledge form. As a final fundraising push in the late fall, the planning committee members reached out to any classmates they had contact with during the planning of their reunion events via a personal note. This approach proved to be the most effective because donations poured in beginning with an anonymous gift of $20,000, two gifts of $6,500 and one $5,000 gift.
Fifty-eight members of the class gave an average gift of $524. By the end of the fundraising effort, they had not only reached their goal but eventually surpassed it raising a total of $68,368.
To reach this impressive goal, both Doherty and Loftus (along with the planning committee) worked very hard to raise these funds, and definitely exemplify SXU's Core Values of Respect, Compassion, Service, Hospitality, Integrity and Excellence. The life lessons both women learned while attending the University have clearly stayed with them well beyond their years of walking SXU's corridors. They both enjoyed working on behalf of the University too and reconnecting with their classmates during this effort. Doherty stated, "The wide breadth of the education that we received at SXC (Saint Xavier College) certainly served me well over the years, and a lifetime of friendships that originated in those hallowed halls are truly one of the greatest treasures of my life."
"I'm committed to helping SXU continue to succeed," said Loftus. "The decision to provide some leadership to this reunion effort was simple – I love the University, and I love the mission! I began serving on the Board of Trustees in 1996. Working on the reunion fundraising effort was another avenue to achieve the goal of raising money and continuing the legacy. Mostly though, it was enormous fun working with fellow classmates and staff. It was a most memorable experience."
---