Congratulations Class of 2016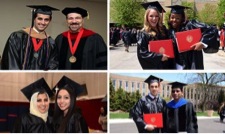 This time of year brings convocations for both high school and university students across the nation and Saint Xavier University (SXU) would like to extend its deepest congratulations and well-wishes for success to all of its graduates! At this pivotal time in your life, it is important to stay focused, monitor and measure your progress and remember the steps taken along the way. This weekend, reflect on your SXU experience and reap the reward of your labors: a certificate, a degree, a diploma – you did it!
More than any previous generation of college graduates, you have choices. Through technology, you can transcend time and space – living one place and working in another. You can create a different, better balance between work life and home life. You can rewrite the rules, or make them up as you go along. You have the opportunity to make your world anywhere, and the world is hungry for your enthusiasm, your skills and your optimism.
Now go out there and make SXU proud – congratulations, cougars!
---