Cuneo Foundation supports two Saint Xavier University students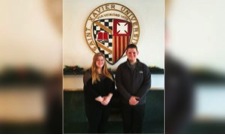 Saint Xavier University (SXU) is delighted to announce the selection of Ashley Galassini '20 and returning recipient Peter Para '18 as Cuneo Scholars for 2016 to 2017. Both students will receive a scholarship of $25,000 for the academic year, funded by a generous grant from the Cuneo Foundation.
Galassini is a freshman nursing major. Her dream is to become a nurse at Advocate Christ Hospital in Oak Lawn, but in the meantime, she keeps herself very busy with her studies, a part-time job in food service, and volunteering for such worthy organizations as Convoy of Hope. She also coaches special needs baseball teams in the summer and fall and is active in her home parish, St. Stephen Deacon and Martyr in Tinley Park, Ill.
Para is a junior accounting major in SXU's Graham School of Management (GSM). In high school, he was very active in his youth group at Our Lady Mother of the Church Polish Mission in Willow Springs, Ill. Currently, he is a member of the GSM Student Advisory Board and SXU Credit Union. Additionally, Para is the president of SXU's Environmental Concerns Organization. When he's not studying or participating with groups on campus, Para has an internship in tax preparation with Central Business Services in Chicago.
Galassini and Para were nominated for the Cuneo scholarship by SXU President Christine M. Wiseman, J.D. In her nomination, she noted that both of these promising students embody the Cuneo Foundation's interest in supporting students demonstrating high academic potential, active involvement in co-curricular activities, financial need, a passion for service, and a desire to help create a more just society.
---