Determination leads one SXU alumna on the road to success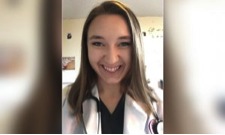 In May, Lauren Knepper graduated from Saint Xavier University's (SXU) School of Nursing (SON) with the hope to begin working as a nurse, preferably in critical care and/or with underserved populations. As she smiled and received her diploma from SON's Dean Jacobson that sticky Saturday afternoon, most of the audience in the Shannon Center had no idea the backstory that made her achievement all the more impressive.
Knepper received financial assistance through well-earned scholarship, including the prestigious merit- and need-based Cuneo Scholarship and the Rosaleen Hertel '45 Scholarship through SON, but the value she has given back to SXU and the larger community is much more than what she accepted. Knepper was a transitions peer mentor and volunteered with many campus groups, including Service Club and Pals for Change. She also attended two spring break service trips. She went to Baltimore, Md. during spring break of 2014 to volunteer at Mercy Medical Center, a hospital where the underserved in the greater Baltimore area are given an equal chance to have adequate healthcare. During spring break of 2016, she attended a service trip to Holly Springs, Miss. to help residents with disaster relief after a terrible tornado in December ravaged the town and surrounding area. She somehow was able to coordinate with her busy nursing class and clinical schedules to volunteer for blood drives and health fairs and to help serve food to the needy and homeless through various organizations.
"SXU does an amazing job promoting service," said Knepper. "Not only is it one of the core values we all hear about, but you can actually see it on campus and within the actions of so many students, faculty, and staff."
Knepper was the first in her immediate family to graduate from college, and is only the fifth in her extended family. This is an accomplishment she does not take lightly.
"Having a college degree means that I will have an opportunity to make money, which I plan to use to benefit others. It also means I can fight for my dreams and accomplish my goals and that I can serve others," said Knepper.
Knepper takes her degree, with its rights and privileges, more to heart than many college graduates in part because her family experienced hardships stemming from unemployment. There was even a time when her family lost their home; she moved in with friends during her senior year to finish high school while the rest of her family -- four of them -- lived in a single motel room. During breaks from SXU, Knepper stayed with extended family members or new friends from SXU who became just like family. After several years in a motel, her parents, both of whom are now working, were able to move the family out of the motel and into a house last year. The family's situation was further complicated by Knepper's health problems -- she was diagnosed with epilepsy in October of her first semester at SXU and suffered through numerous grand mal seizures a week. She persevered and didn't even need to take any time off although, according to Knepper, she "was barely able to finish the semester." Many financial struggles for Knepper and her family still remain, with living expenses plus medical bills and school loans, but she is extremely grateful to all who have made a difference in her life.
Knepper is currently working as a nurse at Advocate Christ Medical Center in the telemetry and critical care units. During her off time, she still helps tutor some of her friends in the SXU nursing program, as she knows that hard work and dedication are needed for success both in and out of school.
"I was actually shocked to have been hired so quickly," said Knepper. "Even though many people think nursing is in high demand, it's still a job and even with a college degree, finding and keeping a job takes a lot of hard work and effort. I only could have made it through my experiences because of God and the people he placed in my life. Not to mention the gracious people who made the decision to invest in my future and provide me with the scholarship money I needed to finish school and continue to work hard to achieve my dreams."
---