News Alert: SXU's Sophomore Ellie Willging featured in Freeport Journal Standard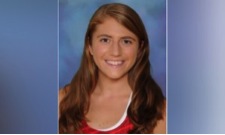 Saint Xavier University's (SXU) Ellie Willging, sophomore, was recently featured in the Tuesday, April 12 issue of Freeport Journal Standard for securing her spot in the National Association of Intercollegiate Athletics (NAIA) Outdoor Nationals by qualifying for the 5,000-meter run. In the article, Willging was quoted talking about her aspirations to match that feat by securing a spot for the 10,000-meter run at Nationals May 26 to 28.
SXU would like to wish Willging the best of luck at Nationals and congratulate all our dedicated athletes!
---