SXU Welcomes Erin Mueller to the University Advancement Team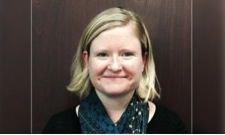 Saint Xavier University's (SXU) University Advancement (UA) would like to welcome its newest team member, Erin Mueller, executive director for corporate, government and foundation relations. She brings 14 years of experience to the team, specializing in: budget generation and administration; grant development and management; contract drafting and negotiation; and team leadership.
"Having grown-up in this neighborhood and graduated from Mother McAuley, I have experienced first-hand the heritage of the Sisters of Mercy, and credit my strong critical thinking and communication skills, and my commitment to a career that is in service to the needs of the greater community to that tradition" said Mueller. "I am thrilled to join the Advancement team at Saint Xavier University. This is an opportunity to apply my experience and knowledge of corporate, government, and foundation fundraising, in support of Saint Xavier, an institution whose mission I so deeply respect. Over the next year, I look forward to working with the University faculty and leadership to cultivate new funding opportunities for Saint Xavier."
Prior to SXU, Mueller worked for The Alliance for Clinical Trials in Oncology Foundation, where she drafted and negotiated complex contracts and budgets for national, multi-center oncology clinical trials. She oversaw the preparation and submission of applications and management of extensive grant portfolios, which resulted in multi-million dollars of awarded funds. Mueller also was responsible for spearheading process development, where she formulized standard operating procedures, best practices, work instructions and policy documents.
Mueller has a Master of Arts in History from Marquette University in Milwaukee, Wis. and a Bachelor of Arts in Liberal Arts and Sciences in History from The University of Illinois in Urbana, Ill. She is also an alumna from SXU's neighbor, Mother McAuley Liberal Arts High School.
Please join us in welcoming her to the SXU community!
---