News Alert: SXU's Gilhooley's Reopens Under New Management on October 1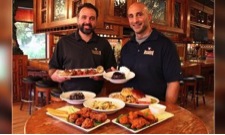 Saint Xavier University's (SXU) Gilhooley's Grande Saloon has been very busy this summer with undergoing many changes -- new management, new look and even a new (and delicious) menu. The updates to the establishment will be made available for viewing starting this Saturday, October 1. With the help from SXU's new food service provider, Country House, Gilhooley's will sure be a great fit for students and local residents alike.
The renovations and new menu items were recently featured in the Tuesday, September 27 issue of DNAinfo Chicago. The article gives a close look at what people can expect from the newly revamped establishment, while also hearing expectations for the upcoming year from Country House Owner and Executive Chef Paul Boundas and Gilhooley's General Manager Jim Terri.
---