/
/
/
SXU's Graham School and Marquette Bank join forces for economic event on June 8
SXU's Graham School and Marquette Bank join forces for economic event on June 8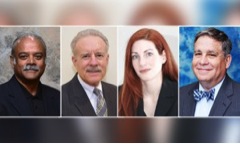 Saint Xavier University's (SXU) Graham School of Management (GSM) has joined forces to partner with Marquette Bank to host three economic events this year as part of the South Side Community Business Speaker Series. The second event will take place on Wednesday, June 8 starting at 8 a.m. in the Fourth Floor Board Room located on SXU's Chicago campus, 3700 West 103rd Street.
The event entitled, "Planning for Business Succession: Creating a Road Map for Success" will include a panel discussion on various key business elements required for success: goal setting; personal financial and strategic planning; buying and selling agreements; leadership and management continuity; and successor preparation.
Hear from business professionals including: Richard Schumacher, first vice president and trust officer at Marquette Bank; Robin House, financial advisor at Edward Jones Investments; and Donald Cyze, associate professor of taxation at SXU's GSM. The panel discussion will be moderated by Joseph Cherian, associate professor of marketing at SXU's GSM.
This event is free and open to the public; however, seating will be limited and advanced registration is required. To register visit Marquette Bank's website.
---