SXU Launches New Degree Program in Hospitality Management Field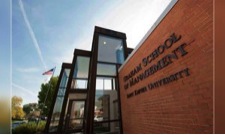 Are you seeking a new career path? If so, consider Saint Xavier University's new degree program in the field of Hospitality Management. This program, housed in the Graham School of Management located at 3825 West 103rd Street in Chicago, is dedicated to teaching students the customer service skills, training, and techniques needed to be successful in this industry.
Students learn that the customer is king or queen, and that the goal within the hospitality industry is to make sure customers are delivered the best customer service possible.
The skills students learn in these courses will take them far beyond the classroom and help them to remain competitive in a constantly changing environment.
While the hospitality industry is fun and exciting, it is also complex and vast. Most people mistakenly think of this industry as consisting of restaurants and hotels alone. However, those are just two of the five industries that comprise the wide range of businesses representing the scope of hospitality and tourism:
Travel and tourism -- airline, cruise, rail, coach, and automobile
Lodging -- hotels, motels, and resorts
Assembly and event management -- meetings, conventions, and expositions
Restaurants and managed services -- restaurants, managed services, and food service
Recreation -- gaming/casinos, attractions, amusement parks, national parks, and recreation.
We offer competitive advantages over other universities with similar programs in hospitality management because our classes are smaller, which allows for a closer relationship with our students. Our students make on-site visits each semester to different hotels, restaurants, amusement parks and convention centers. Guest speakers from the hospitality industry visit classrooms and share their personal stories with students. We work with other businesses within the hospitality industry to offer student internships. In addition, the director of the Hospitality Management Program, Dr. Joyce A. Hunter, spent over a quarter of a century working within the airline industry and brings real-world experience to the classroom.
As you consider becoming a part of the hospitality industry as a career path, remember these important facts:
The hospitality industry is the world's largest industry and the most international in nature. International travel brings over 1 billion travelers and generates receipts of over $1 trillion.
The hospitality industry is both directly and indirectly responsible for generating 11 percent of the gross domestic product (GDP).
The hospitality industry is the second largest employer in the United States after the government.
In more than half of the 50 states, the hospitality industry is considered to be one of the largest industries.
The hospitality industry controls over 8 percent of the total employment in the world.
The hospitality industry is simply unique and interesting! If you love working with people, have a creative spirit, like adventure and challenges and are able to think outside of the box, you will enjoy becoming part of this industry.
If you have any questions or would like to know more about the program, please email Dr. Joyce A. Hunter at hunter@sxu.edu. Dr. Hunter looks forward to hearing from any future students.
---