SXU's Graham School takes students to China for educational trip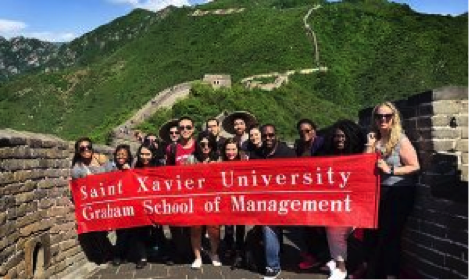 This past spring Saint Xavier University's (SXU) Graham School of Management (GSM) students traveled overseas to China from May 8 through 17. This trip was designed to expose students to the rich culture and fast economic development of China, and to motivate and inspire them to be a global thought leaders in the international business environment. Students had the opportunity to explore different types of local businesses by meeting with firm managers and touring facilities in the cities of Beijing, Shanghai and Suzhou. Additionally, students traveled to various historical sites and experienced cultural activities.
The GSM faculty decided to have its students explore China with the hope they experience first-hand an international business hub with a strong and diverse economy. Both Dr. Song Wang, assistant professor of finance, and Dr. Jason Lambert, assistant professor of management, led the 13 students throughout the trip.
The trip was open to all SXU undergraduate and graduate students, sophomore status and above. Interested students were required to return a completed application and a $100 deposit to be considered for the trip. Once the application and deposit were received, students were sent an acceptance packet, which they were required to complete and return, along with a second deposit of $200. From there, the students were officially enrolled into the corresponding BUS 392 (undergraduate) or BUS 592 (graduate) course by the GSM. These courses were special study abroad course associated only with the China trip.
SXU offers opportunities, like the China trip, to students interested in learning about other cultures and finding commonalties between our nation and others. This GSM has offered trips to China in the past; however, this is the first trip in about five years. Additionally, SXU's School of Nursing (SON) offers annual trips specific to their student population to various international locations such as, Ireland, Italy and Croatia.
"Studying abroad can be hugely beneficial for our students, as it gives them an opportunity to see first-hand cultures and countries that on the surface may seem very different from our own, but with closer examination highlight how much we all share in common," said Kelly Reidy, director for International Education. "Employers are looking to hire individuals who can think and compete on a global scale. Time abroad is an excellent resume builder that can set a student apart from his or her peers and also re-shape their career goals. Many students who spend time abroad choose to look for international career opportunities based on their experiences."
To learn more about SXU's study abroad programs, please go online.
---