SXU's Health Center Offers Immunizations for 2016/17 School Year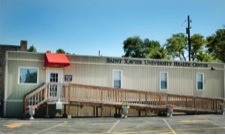 Though summer vacation is in full swing, Saint Xavier University's (SXU) Health Center is preparing for the upcoming school year by offering back-to-school immunizations. Health is critical for children as they go back to school. SXU is giving parents in the surrounding local communities the chance to seek those necessary immunizations at their conveniently located Health Center on the university's Chicago campus, 3700 West 103rd Street.
"Receiving all recommended immunizations is one of the most important things you can do to protect yourself and your children against diseases such as measles, whooping cough and influenza," said Katie Tibbits, nurse practitioner and director of Clinical Services at SXU's Health Center.
The SXU Health Center has all immunizations required for school attendance from Kindergarten through 12th grade, including the latest meningitis requirement. Students are now required to show proof of the meningitis vaccine administration for both sixth grade and 12th grade entry. In addition to the immunizations required for attendance at Illinois schools, the SXU Health Center also offers many other recommended vaccines for all age groups including shingles, pneumonia, Gardasil (HPV) and flu shots.
Although same-day appointments are usually available, making an appointment will ensure you avoid unnecessary waiting. Most carriers cover preventative vaccines at 100%. If your health insurance does not cover the services you seek, SXU's Health Center offers low self-pay rates and accepts cash, credit or checks. The Center is open to all members of the community.
For more information or to make an appointment, please call SXU's Health Center at 773-298-3712 Monday through Friday during the hours below:
Monday: 8:30 a.m. to 4:30 p.m.;
Tuesday: 8:30 a.m. to 7 p.m.;
Wednesday: 8:30 a.m. to 4:30 p.m.;
Thursday: 8:30 a.m. to 7 p.m.;
Friday: 7:30 a.m. to 4:30 p.m.
---