SXU's HR Society Student Chapter hosted Chartering Ceremony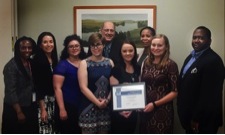 The inaugural Society of Human Resource Management (SHRM) Student Chapter at Saint Xavier University (SXU) held its official Chartering ceremony on Monday, April 25 at Little Company of Mary's Oak Lawn facility. SHRM is the largest and most respected global human resources professional organization that helps to build and develop partnerships with human resource management professionals. The goal of the HR society is to connect students with professionals to provide them with experience in the workforce and access to numerous career development and networking opportunities. The organization hopes to leverage these opportunities through affiliations with the South Suburban Cook Human Resources Association, SXU's sponsoring Illinois SHRM chapter, as well as the national SHRM organization.
During the ceremony, the chapter advisor, Dr. Dayo Akinlade, conducted a brief installation ceremony to recognize the founding executive officers and members of the HR Society. Melissa Janicki, who has been a driving force in creating the organization was installed as the HR Society president. Roseann Baustita and Marzena Maka, both instrumental in affiliateing the SXU chapter, were installed as treasurer and historian of the society respectively. Other executive members, Slawomir Klus, vice president, and Rebecca Shalack, secretary, could not attend the event but were also acknowledged for their efforts and dedication to the society. Also present was Nicole Clancy, one of the founding members of the HR Society.
Dr. Monica Gavino, co-chapter advisor, welcomed special guests, which included Roger Addison, president of the South Suburban Cook HR Association, and Nikkie Bolden, director of IL SHRM College Relations. Other special guests included Vanessa Duffin, Sharon Armstead and Michelle Klaus also from the South Suburban Cook HR Association. Dr. Jason Lambert, chair of SXU's Management and Marketing Department, and Dr. Jose Daniel, assistant professor of Management from the Graham School of Management (GSM) were also present.
Guests were invited to dinner, courtesy of the HR Society, paid for from money raised by their bake sale fundraising events. The HR Society is grateful to Little Company of Mary Hospital for allowing SXU's use of their facility. Melissa Janicki has accepted a position as HR coordinator for Little Company of Mary.
---