News Alert: SXU's Prof. James Walker featured in Inc. Magazine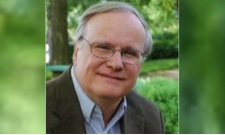 Saint Xavier University (SXU) Department of Communications Professor Emeritus James Walker, Ph.D., recently was featured in the Monday, April 4 issue of Inc. Magazine for his analysis on the accuracy of Major League Baseball (MLB) forecasting. In the article, reporter Ilan Mochari featured both Prof. Walker and Duquesne University Professor Robert Bellamy's examination of the media's predictions of team performance in the MLB and the inaccuracies discovered from the 2015 season.
Last year, the two professors co-authored an article on The Conversation's website, which discussed this very same issue – whether or not the MLB 'experts' can accurately predict preseason standings better than the average baseball fan. Turns out they were right and throughout their findings, they uncovered two overarching conclusions: High-priced, big-name talent doesn't always deliver team results; and better analytics produce better predictions.
Prof. Walker also published a novel by University of Nebraska Press entitled, "Crack of the Bat: A History of Baseball on the Radio," which examines the role of baseball in the development of the radio industry and the complex co-evolution of their relationship.
To purchase a copy of his novel, please visit Amazon.com for more details.
---