Shannon Center Member Spotlight of the Month - January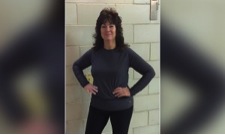 Saint Xavier University's (SXU) Shannon Center has been open to the community for over 16 years! As a way to show appreciation of the community's support, the Shannon Center will highlight one loyal member each month. Members will be chosen by a full-time staff manager or student manager and will be featured on the Shannon Center's website.
The Member Spotlight for the month of January is Therese Reidy. A Mount Greenwood resident, Reidy truly enjoys the Shannon Center for its "community feel," where it's not only convenient but a place to interact with the various gym-goers who help keep her accountable. She was first introduced to the Shannon Center by winning a membership through a lucky raffle prize. Initially, Reidy starting using her winning membership to walk in an effort to relieve stress, lose weight and simply live a healthier life. As a result, her healthy lifestyle changes led to seeing results, which helped to keep her motivated.
"Exercising has helped me achieve my goals and now it has just become part of my life that I look forward to every day," said Reidy. "I've lost over 70 pounds from walking and making healthier choices. My advice to help motivate other would be to just show up -- the work will pay off!"
Congratulations, Therese! Check back to see the Shannon Center Member Spotlight for the month of February!
---