/
/
/
SXU to bestow John C. and Jane McCarthy with its highest honor at 31st Annual President's Scholarship Ball
SXU to bestow John C. and Jane McCarthy with its highest honor at 31st Annual President's Scholarship Ball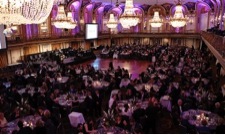 Saint Xavier University (SXU) will honor John C. and Jane McCarthy, lifelong supporters of the Sisters of Mercy and SXU, with the Shield of Saint Xavier at its 31st Annual President's Scholarship Ball on Saturday, April 16 at 6:30 p.m. Entertainment for the evening will be Dan Hayes Orchestra, which will be held at Hilton Chicago, 720 S. Michigan Avenue.
The purpose of this Black-tie optional gala, which has raised nearly $6 million since its inception in 1985, is to honor an individual and/or company while also fulfilling the dreams of a quality education among SXU's student body, many of whom are first generation college students. Therefore, ALL proceeds from the Ball go to the Presidential Scholarship Program, which financially supports SXU's most deserving students.
Everyone who has ever contributed to the Scholarship Ball can rest assured that their support has had a positive and direct influence on an SXU student, as you will see at the evening's occasion.
This gala event is open to the public and will be co-chaired by the Sisters of Mercy serving on SXU's board of trustees: Sister Mary Ann Bergfeld, R.S.M.; Sister Margaret Mary Knittel, R.S.M.; Sister Sheila E. Megley, R.S.M.; and Sister Maureen A. Scott, R.S.M..
For those who wish to attend, the University offers a Catholic mass at 5:30 p.m., as well as a reception at 6:30 p.m. The formal dinner begins at 7:30 p.m. with an after-dinner reception at 10 p.m., which includes a coffee bar and cordials.
"The Shield of Saint Xavier is our University's highest honor, awarded to recognize outstanding people for their enduring support of Saint Xavier's mission of academic excellence and social concern," said President Christine M. Wiseman, J.D. "John and Jane have always shown an incredible amount of support, service and loyalty to the University, and we are deeply pleased to bestow this honor upon them."
John is the nephew of the late Sister Mary Huberta McCarthy, R.S.M., who was the president of SXU during its move to 103rd Street in the 1950's. Her efforts to secure the support of religious, business and civic leaders were qualities that served SXU well. John dutifully served on SXU's board of trustees from 1991 to 2007 and was chairman of the board from 1997 to 2003. Currently, he serves as the president and part owner of Continental Air Transport, Inc., which operates airport shuttle service to O'Hare and Midway under the name GO Airport Express. The shuttle service sponsors a program entitled, "Heroes in the Hood," an award for youth and adult community volunteers.
He plays an active role in many civic and professional groups by serving as vice chair of the financial committee for Catholic Charities, chairman of the finance committee for St. Thomas of Canterbury Parish and is a member of the Chicagoland Chamber of Commerce. John was elected as board chairman of The Magnificent Mile Association in February 2015, an organization that serves to preserve, promote and enhance the unique, multi-use neighborhood in Chicago. Additionally, he has served on the board of directors for the Chicago Convention and Tourism Bureau and was a board member of Heartland Alliance Human Needs & Human Rights from 2008 to 2010.
Jane's association with the Sisters of Mercy began 39 years ago when she and John attended the Annual Mercy Hospital Dinner Dance. She later joined Mercy Hospital's Women's Board in 1984, where she helped establish the "Sister Huberta McCarthy, R.S.M., Women of Mercy Award" in 2000. Currently, she is the editor for the Mercy Women's board newsletter. Jane is a council member at St. Thomas of Canterbury Parish and assists in their food pantry. Since 2001, she has volunteered at the Chicago History Museum and is treasurer of Castlewood Terrace Homeowners' Association.
John received his bachelor's degree from DePaul University and his master's degree in business administration from Loyola University. Jane earned a degree in journalism from Northern Illinois University and has worked in corporate communications and public relations.
For more information, please contact us at (773) 298-3748 or specialeventsFREESXU. Media interested in attending the Ball should contact Executive Director of Media Relations Karla Thomas.
---