/
/
/
SXU's Kathleen McInerney partakes in local photography project featuring her work in Latin America
SXU's Kathleen McInerney partakes in local photography project featuring her work in Latin America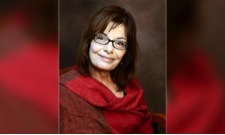 Saint Xavier University's (SXU) School of Education (SOE) Associate Professor Kathleen McInerney recently was interviewed by Beverly photographer Diego Ivan Martirena for his latest project entitled, "Strong Influential Women of Beverly." Through the project, Martirena hopes to shine a light on all the good local women are doing both within and outside the community. This photography project was featured in the Tuesday, April 12 edition of the Beverly Review by reporter Kyle Garmes.
Martirena first started working on this project by interviewing a few people he knew and capturing their photos. After speaking with members of the community, more and more nominations for other influential women started to flood his inbox. As the project has moved forward, Martirena said he has been surprised by all the nominations he received, as at least 20 women have signed on to be photographed.
The goal behind Martirena's project is to showcase to his daughters that you truly can do anything you set your mind to and that success comes from within yourself. Through his interviews and photographs he tells the story of influential women in the community and what they've accomplished throughout their lives.
Prof. McInerney was nominated for this project by a couple of different colleagues. During her interview with Martirena, she discussed the work she does with the Centers for InterAmerican Studies (CEDEI), a nonprofit organization in Cuenca, Ecuador. Prof. McInerney serves as a board and faculty member for CEDEI and explained to Martirena the various schools within the organization.
CEDEI has three schools in Cuenca, one serves as a preschool to 11th grade, trilingual school that has a high special needs population. The other two parts of the organization that Prof. McInerney discussed during her interview focused on the international school, where students from the U.S., Canada and other countries come to study multiple subjects, primarily Spanish, but also political science, biology, etc. The third school CEDEI has is an English school for the local residents.
Prof. McInerney finished her interview with Martirena discussing her latest trip to Juárez, Mexico, where she met and interviewed Sister Betty Campbell of the Sisters of Mercy. She went into details about how she'd like to eventually visit with Sister Betty Campbell on her next trip and further discuss her work with women who struggle to make ends meet on unlivable wages.
Currently, Martirena isn't sure what he will do with his project quite yet. He doesn't want the project to be another run-of-the-mill photo album, but would like the whole community to have access to it.
To submit a nomination for the project, email Martirena at diego@maplewoodphotography.com or visit his website.
---