/
/
/
SXU's Alumna Lauren Knepper to receive National League for Nursing Student Excellence Award
SXU's Alumna Lauren Knepper to receive National League for Nursing Student Excellence Award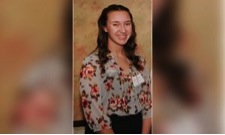 Saint Xavier University's (SXU) School of Nursing (SON) alumna Lauren Knepper '16 has recently been selected to receive the 2016 National League for Nursing (NLN) Student Excellence Award on Friday, September 23 during the Honors Convocation session at the 2016 NLN Education Summit in Orlando, Fla. The annual NLN Education Summit draws a large crowd of nurse faculty, deans, administrators and professionals from health organizations.
Knepper was considered for this recognition as a result of her participation in the Student Excellence Paper Competition. She was invited to submit a paper describing what it means to attend a school designated as a NLN Center of Excellence. Her paper, entitled "Excellence in Compassion: What It Means to Me to Attend a Center of Excellence School" will be published in the fall issue of the NLN Report.
"When Lauren received the Email Address from the NLN, she came directly to the School of Nursing," said Dr. Gloria Jacobson, dean and professor of SXU's SON. "I am so thankful to all here at SXU who have made this community one that results in graduates who truly can make our hearts swell with pride."
Please join SXU in congratulating Lauren on her achievement and national recognition!
---