Meet SXU's incoming freshman from a FOCUS lens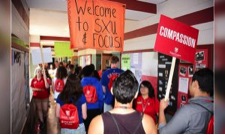 Even in the middle of summer, Saint Xavier University's (SXU) Chicago campus buzzed with activity as the incoming and transfer students enjoyed their first taste of college life at the University's FOCUS summer orientation program.
FOCUS is designed specifically to provide students with essential resources and information to best prepare them to make the transition to college life. The students that participate in each of the FOCUS sessions take part in social activities, campus tours, and information sessions on clubs programs and support services. More importantly, students get receive their class schedules and get to start making new friends from the moment they onto campus.
SXU's summer orientation program isn't just for students, parents and guardians have the opportunity to learn what it means to be a part of the SXU community through informal meetings with University deans, department representatives and student leaders.
While much of the orientation focuses on discovering the benefits of a SXU education, it allows students to make friends and form lifelong relationships. That said, meet a handful of the creative, intelligent and simply sensational students that have just recently joined the Cougar family that participated in FOCUS 2016 at SXU:
"Earlier this year I got an email [from SXU] and I told my mom about it and she was like, 'That's such a good school!' So, I checked it out and I fell in love with it right away…it was the size, how friendly it was…you didn't feel like, 'Oh no, I'm a freshman they're going to bully me.' You just feel at home right away." – Elena
"I want her to gain interpersonal skills, to take on the corporate world because we all know it's not that easy out there. I'm looking to hopefully have her expand her horizons and get ready for what's really coming, and I believe this school can do that for her." – The Waters Family
"I'm excited to meet new people since I've always been around the same people since grammar school and high school. I went to the neighborhood schools and now I'm coming to this college and it's exciting!" – Carolina
"He's not scared to be himself, whether it's good or bad. Sometimes people are susceptible to their environment, but he can hold his own. He can walk away when he's supposed to. He's going to be fine. He'll be good." – Elijah and Marcos
"I have no idea [what I want to be when I grow up]. I think that's part of college…figuring that out, eliminating things and picking and choosing things that you're leaning more towards." – Mike
"I want to have fun but at the same time I want to work really hard, make a difference in someone's life, be known and leave a legacy behind." – Evelyn
"I watch a lot of shows like Criminal Minds and it got me really interested in [in criminal justice] and I thought, 'I should try this out.' I like all the things they were doing, like forensics, so I thought, let me give it a try and see if I like it. So that's why I'm majoring in criminal justice." – Nadia
SXU would like to extend a heartfelt welcome to all of its incoming freshman and transfer students! To view the photos from FOCUS 2016, please visit SXU Newsroom's Facebook page.
---