/
/
/
Saint Xavier University's Meghan Hill named Lincoln Academy Student Laureate
Saint Xavier University's Meghan Hill named Lincoln Academy Student Laureate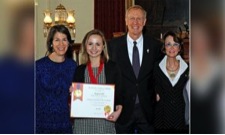 Each fall, an outstanding senior from each of the four-year degree-granting institutions of higher learning in Illinois is awarded the Abraham Lincoln Civic Engagement Award and thereby becomes a Student Laureate of the Lincoln Academy of Illinois. This year, Meghan Hill was selected as Saint Xavier University's (SXU) Student Laureate for 2016.
In the spirit of Lincoln, Student Laureates are honored for their leadership and service in the pursuit of the betterment of humanity and for overall excellence in curricular and extracurricular activities. The 42nd Annual Student Laureate Award Ceremony was held on Saturday, November 12 in the Hall of Representatives at the Old State Capitol in Springfield. Governor Bruce Rauner, president of the Academy, was invited to present the awards. Each Student Laureate was presented the following in recognition of outstanding achievement: The Lincoln Academy Student Laureate Medallion; a certificate of achievement; and the Abraham Lincoln Civic Engagement Award in the amount of $1,000.
Hill is a double major in Communication Science and Disorders and Music with a Vocal Emphasis. She maintains a 3.96 GPA overall with a 4.0 in both majors. She is an accomplished member of the Honors Program and is now completing work on her senior project titled, "Love You Vocal Folds." Hill has volunteered with numerous organizations including: the Greater Chicago Food Depository; Barbara Vick Family Center; Arab American Family Services; Elim Christian Services; and with her church's vacation bible school.
Hill is in her second year serving as the president of Pals for Change, a registered student organization that volunteers to serve individuals with special needs. She is a resident assistant, transitions peer mentor and training coordinator for the Student Ambassador Program. Hill is also a member of the University Orchestra, Chorale and Chamber Singers. She is past recipient of the Student Life Award, the Residence Life Leader Among Leaders Award and Rookie of the Year Student Ambassador Award. She was most recently honored with the O'Brien Medallion, a prestigious University award honoring academic achievement, co-curricular involvement, leadership and service.
"I am incredibly grateful and honored to have been selected as Saint Xavier University's Student Lincoln Laureate," said Hill. "The opportunities Saint Xavier University has provided me with have shown me the importance of compassion, acceptance, and understanding in today's world. Saint Xavier and my Mercy education have taught me that a life in service to others, is the greatest life one can lead."
For more information on the Lincoln Academy Student Laureate Award, visit SXU's website.
---