SXU Middle Eastern Studies Program Hosts Two Upcoming Events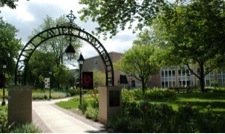 Saint Xavier University's (SXU) Middle Eastern Studies Program will host two events this spring in conjunction with the Middle Eastern American Issues course (MES 150/ANTH 285). Both lectures will take place at 7 p.m. in SXU's Warde Academic Center room S113, where refreshments will be served. These events are free and open to the public.
"Reflections: An Iranian American Experience" – Monday, March 28
Born in Iran and college educated in the United States, Trombetta has created a bridge between her identity as an Iranian and American. She will share her story and reflect on her journey as an Iranian American woman, educator and mother living in the southwest suburbs of Chicago.
"Solidarity between the Black Lives Matter Movement and Palestine" – Monday, April 11
This event will bring light to two major groups, Palestine and the Black Lives Matter Movement, and discuss the unity between the two.
For more information, please contact Nina Shoman-Dajani at shomandajaniFREESXU or Iman Saca at sacaFREESXU.
---