/
/
/
SXU's Muslim Student Association raises $3K for Zakat Foundation of America
SXU's Muslim Student Association raises $3K for Zakat Foundation of America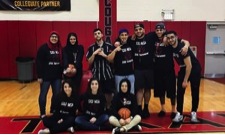 This past spring, Saint Xavier University's (SXU) Muslim Student Association (MSA) hosted a charity basketball game to raise awareness and funds for the Zakat Foundation of America (ZF). This event was led by SXU senior Hadeel Abderrhaman, co-president of MSA, as part of their annual humanitarian project.
"One of the important pillars of the faith is to give back," said Abderrhaman. "So we try to implement that on our campus to show the community what Muslims and Islam is really about."
Together, MSA and ZF, collected $3,000, which will go towards the construction of a water well for a community struggling with water scarcity.
"Saint Xavier is very proud of Hadeel Abderrhaman and her fellow members of the Muslim Student Association here at the University," said John Pelrine, vice president of Student Affairs. "Their outreach and support of those in need – in this case through a charity basketball tournament – was a fun and effective way to accomplish their goal of giving back to those in need. SXU hopes to cultivate this practice in each one of our students."
To learn more about ZF, please visit their website.
---