Network with employers at SXU's 2016 Spring Internship and Job Fair on February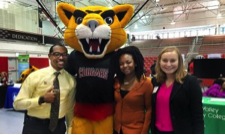 Saint Xavier University's (SXU) Office of Career Services invites the community to meet with employers at the 2016 Spring Internship and Job Fair on Friday, February 19. The Fair is scheduled from noon to 3 p.m. in the Shannon Center, located at the University's Chicago campus, 3700 W. 103rd Street. This event is free and open to the public.
Employers will recruit for full-time, part-time and internship positions in various industries. Attendees are advised to dress professionally and bring many copies of their resumes.
Companies that have attended in the past include the following: ChildCare Careers; Elim Christian Services; Hayes Beer Distributing Company; Little Company of Mary Hospital; Prudential; Standard Bank & Trust Co.; TCF Bank; U.S. Secret Service; United States Army; and Walgreens.
A full list of employers is available on SXU's website. The list of employers attending the fair will be updated on a weekly basis, so be sure to check often! For more information, please contact the Office of Career Services at 773-298-3131.
---