/
/
/
One hundred percent of SXU's MA TESOL graduates enroll in doctoral programs
One hundred percent of SXU's MA TESOL graduates enroll in doctoral programs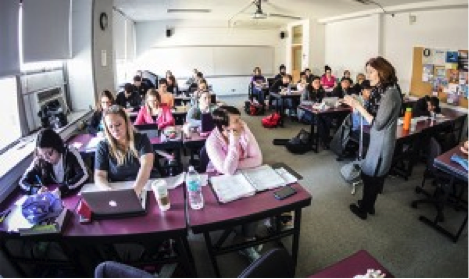 Saint Xavier University (SXU) School of Education's (SOE) first three graduates of the new Master of Arts in Education with a concentration in Teaching English to Speakers of Other Languages (TESOL) Program are now pursuing their doctorates, according to Kathleen McInerney, associate professor of SOE and chair of the TESOL Program.
Manal Kanaan, instructor in SXU's Department of English, is completing her first year in the Doctor of Education Stewardship, Leadership and Learning Program at the University of St. Francis. Sebastian Szewczyk, instructor at SXU and teacher at Senn High School, and Kaliopi Flaskos will begin their doctoral studies in the Language, Literacy and Culture program at University of Illinois at Chicago (UIC) in the fall of 2016.
Prof. McInerney explains the importance of this achievement and its reflection on the dedication SXU student take to ensure success in their academic careers.
"This is a vivid demonstration of how well we prepare students in our SOE graduate programs for further study," said Prof. McInerney. "By the time they complete the MA ED in TESOL, our students have presented at conferences, written for professional publications, and designed professional development for mainstream teachers. They have learned to ask hard questions of research findings, methodologies, and application. They have learned to resist easy answers, to critique, and to read against the grain–the hallmarks of scholarly practice. Our SOE graduate students are well prepared to become leaders, creators, and policy makers."
Prof. McInerney has collaborated with UIC faculty and graduate program admission staff to create the SXU-to-UIC Doctoral Studies in Education Pipeline. She encourages her students, many of whom were English Language Learners themselves, to aspire to the highest levels of education excellence. Prof. McInerney sees her bilingual/bicultural students as critical to identifying and creating policies and practices of equity in schools.
To learn more about the TESOL program, please visit the SXU website. For more information on the SXU-to-UIC Doctoral Studies in Education Pipeline, please contact Kathleen McInerney at mcinerneyFREESXU.
---