/
/
/
SXU's Police Chief Touhy re-elected to the Executive Board of South Suburban Association Chiefs of Police
SXU's Police Chief Touhy re-elected to the Executive Board of South Suburban Association Chiefs of Police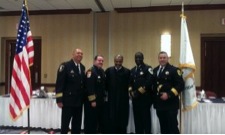 Saint Xavier University's (SXU) Police Chief and Director of Public Safety Jack Touhy was recently elected to an additional term by fellow Police Chiefs and Safety Professionals to the Executive Board of the South Suburban Association Chiefs of Police (SSACOP). The SSACOP is comprised of over 75 South Suburban Police and Safety departments, as well as, members of the Chicago Police, Cook County Sheriff, Illinois State Police, and Federal Agencies.
The purpose of SSACOP is to advance the science and art of police administration and crime prevention. Additionally, SSACOP wants to develop and disseminate improved administrative and technical practices and to promote their use in police work. They hope to foster police cooperation and the exchange of information and training of qualified persons in the police profession and to encourage adherence of all police officers to high professional standards of conduct.
Members of the SSACOP 2016 – 2017 Board of Officers include:
President: Chief Greg Baker, South Holland Police Department
Vice President: Chief Dan Godfrey, Bedford Park Police Department
Treasurer: Chief Jack Touhy, Saint Xavier University Police Department
Secretary: Chief Mitchell Davis, Hazel Crest Police Department
Sergeant-at-Arms: Chief Mike Jones, Matteson Police Department
Chief Touhy has been part of SXU's Public Safety for five years and served a total of 33 years in law enforcement.
---