SXU President Christine Wiseman Joins The Federation Board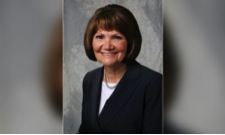 Saint Xavier University (SXU) President Christine Wiseman, J.D., joined The Federation of Independent Illinois Colleges and Universities in 2015 and quickly became the chairwoman of the Board. The Federation is a statewide association representing the public policy interest of close to 60 private colleges and universities and the students they serve. The Federation strives to support member institutions and their students through proactive government relations and public affairs efforts, which you have witnessed through the numerous trips to Springfield with students advocating for the State to release MAP Funding. Additionally, you may have noticed our social media campaigns that have allowed us to continue voicing our concerns regarding funding on behalf of our students. The Federation's core mission is to advance higher education public policies.
President Wiseman was also featured in First Merit Bank's magazine entitled, Merit Matters. The article details SXU's vision for 21st century learning, our core values, and our Vision 2017 goals.
---