SXU creates PSA to increase awareness of 2016 Elections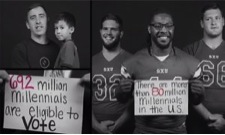 The 2016 Presidential Election is right around the corner and Saint Xavier University (SXU) is doing its best to make sure its students, faculty and staff are informed. In effort to generate more awareness surrounding the impending outcome of Tuesday, November 8, SXU has created a public service announcement (PSA) showcasing the importance of voter participation.
In addition to the PSA, SXU will host two more Debate Watching Parties, with the next one scheduled for Tuesday, October 4 at 7:15 p.m. in Warde Academic Center's Fourth Floor Board Room, where attendees can register to vote, hear from local elected officials and watch the LIVE Vice Presidential Debate on a huge screen.
Prepare to exercise your right to vote by joining us, so you're well-informed on the issues most important to you!
---